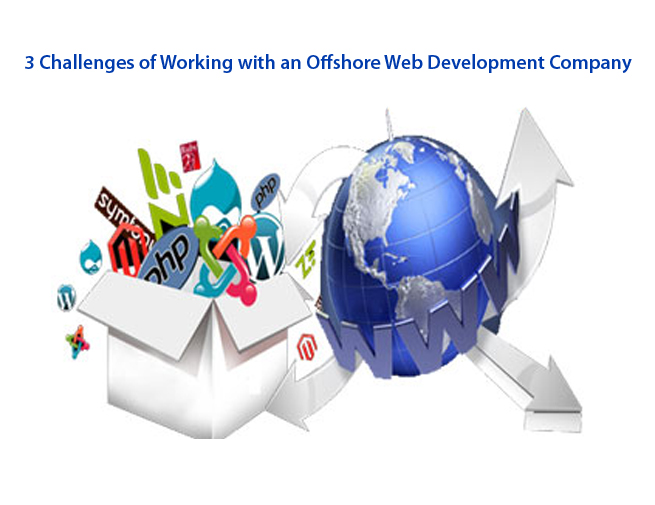 3 Challenges of Working with an Offshore Web Development Company
Offshore development has many advantages and services of such companies are used by businesses from across the globe. Offshore web development companies offer low cost web development and include a host of other services to ensure that you hardly have to look for another firm for your website related needs. They can help you get a great solution for a fraction of the price that a development company in the US, UK or Australia for example would charge. However, if you are new to the process of outsourcing your web development work and do not pay attention to some common mistakes, you can seriously run into trouble. Everyone knows of all the benefits but we are going to go through some of the challenges of working with an offshore web development company below:
Time conflicts & communication – India is one of the most popular choices for businesses when they are looking for low cost and high quality web development services. This effectively means that any company in the western world will have at least 6 to 14 hours of time difference in the business working hours. Video conferences and virtual brainstorming sessions will have to either be scheduled first thing in the day, and often you will have to come early to the office for this. If utilized correctly, such a time difference can ensure that work continues on the project round the clock. However mismanagement will lead to 1 or more days of turnaround time on just simple communication between the offshore team and your in-house team. In addition to the huge time difference, communication can play a serious role when working with an offshore development which will be discussed more in detail below.
Cultural & language barriers – Although any company that ventures into the offshore web development domain will make sure that all points of contact with you understand English perfectly, they will often be stumped by specific phrases. Be painfully specific when detailing out project details and skip on the flowery language. Focus on getting your points across clearly instead and talk slowly/clearly. This culture and language barrier is a huge challenge as sometimes you might feel that you are speaking to a 5 year old child instead of a web development partner.
Quality standards – There are thousands of offshore web development companies based out of South-East Asia already and more open every other day. The task of ensuring that the company is up to the challenge of handling your project is your responsibility. Every offshore web development company will promise you the world but making your way through all the false promises and finding the company with a stellar record is the only way to ensure that you actually benefit from outsourcing your web development work. Quality is another huge challenge when you are working with an offshore development company so make sure you are undergoing due diligence.
Summary
Hiring an offshore web development company that is good or finding any business process outsourcing company for that matter, is a lot of work. Offshore web development can be a rewarding experience when you are able to find a great partner and when you don't, you will almost certainly get an unusable project or suffer a lot of delay and loss of resources. If you need any help or assistance with your offshore development or digital marketing, please feel free to reach out to the team at Mind Digital Group.