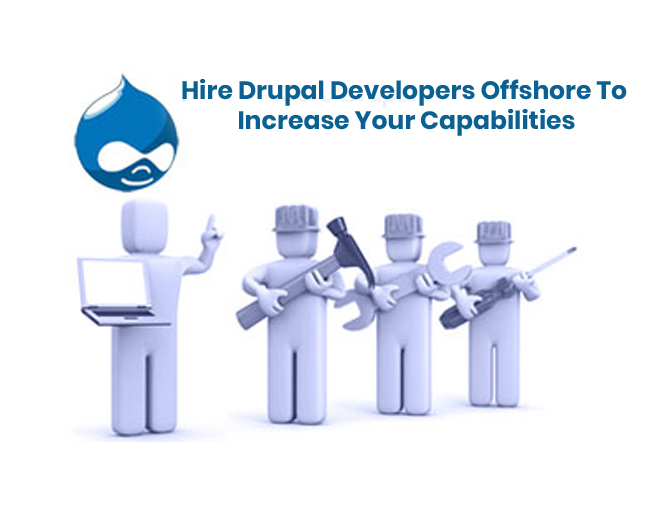 Hire Drupal Developers Offshore To Increase Your Capabilities
If you need Drupal development work that is top class and that you can afford to pay for without robbing the bank, the best option is to hire Drupal developers at an offshore web development company. Drupal is a proven open source content management framework that is highly flexible with thousands of modules and add-ins that can be used to add features and functionality to a website to one's heart's content.
Hire Drupal Developers
The best thing about Drupal development is that it is an established technology with no dearth of Drupal professionals out there. However, businesses of any size need to make smart decisions about how they want to go about their Drupal development. Offshore development brings with it the twin benefits of world-class quality and at highly affordable rates. You can hire Drupal developers at an offshore web development firm to gain the maximum amount of control over the quality of Drupal development while keeping a check on costs.
The best part of hiring Drupal developers at offshore firms is that they are virtually your employees but without the headache-inducing aspects of having in-house developers. When you hire Drupal developers at offshore locations, you are free from HR-related overheads as well as having to bother about health insurance costs or any other on-site headaches.
When you decide to hire Drupal developers at an offshore web development company, you can be part of the recruitment process itself and select the resumes that you want to interview and then conduct candidate interviews via Skype or phone. A good option to hire a Drupal developer is India as the cost competitive advantage compared to Eastern European locations is high-quality manpower with proven technical competence who are fairly conversant in English.
How To Find The Best Offshore Development Company
Once you've decided to hire offshore Drupal developers, the next challenge is to zero in on the best company to choose as your partner. To find a capable offshore web development company, you have to perform some due diligence apart from checking on their website.
Work Experience and Client Testimonials
Make sure that your prospective web development partner has adequate experience in terms of executing the sort of web development work that you need. If a company has experience working in the same vertical that you operate, then it will be easier for you to explain your requirements to that company. You might also want to check the previous track record of the company along with client testimonials which tend to give a good idea of whether the company has satisfied customers or not.
Quality Can Be Expensive
Offshore development means cost savings but it may not be a smart policy to go for the lowest bidder. Just as Apple charges premium prices for its top-class iPhones, Macs and iPads, a top quality web development firm will also be more expensive than the cheapest firms. You should take a look at cost and pricing issues from a strategic and long term perspective. You do not want to go to the lowest bidder and then be disappointed mid-way through the project when you find out that the team who offered to do your project at the cheapest price had cut too many corners and were unable to deliver the results you wanted. Its better to opt for a reputed web development firm who will not disappoint you rather than going for cheap fly-by-night development companies who will disappoint after the project has begun which can lead to project cancellations or delays.
Digital Marketing
In 2014, the rules of the game have changed and they've even changed drastically compared to 2013. As an example, traditional SEO techniques are no longer enough to promote your website and if you do not promote your website, then you are failing to make full use of it. Digital marketing is a key part of the web development and promotion process. Businesses are learning to master both search marketing and display marketing to promote themselves online. Online marketing is becoming more and more about content marketing and getting the social media aspects right. When you are looking for a good development company, see what they can help you with besides just development.
Social Media
Social media is the 800 pound gorilla and its role will keep growing. For effective online marketing and promotion, companies need a presence on six or more of the diverse variety of Social Media out there: Facebook, Twitter, Google+, YouTube, Pinterest, Instagram, LinkedIn, and others. More and more websites are hosting great content via blogs. Other content marketing strategies can include email marketing and white papers. See what the offshore development company has accomplished within the Social Media arena as it can drastically help your business.
Don't Ignore Mobiles
The age of the smart-phone is here and now and companies who do not recognize this reality will suffer. Your website has to be smart-phone-enabled or include responsive web design concepts. Ensure that if you are getting a website built that they are providing you a good mobile & tablet UI ensuring that you are staying ahead of your competitors.
Conclusion
Great companies are always innovating and do clever things to stay ahead of the competition; be it IBM, HP, GE, or Microsoft. Innovative companies like Google and Facebook are also taking steps to ensure that they'll still be there when the Next Big Thing happens. You can also give yourself a chance to stay ahead of the competition by taking the decision to hire Drupal developers at offshore development locations.