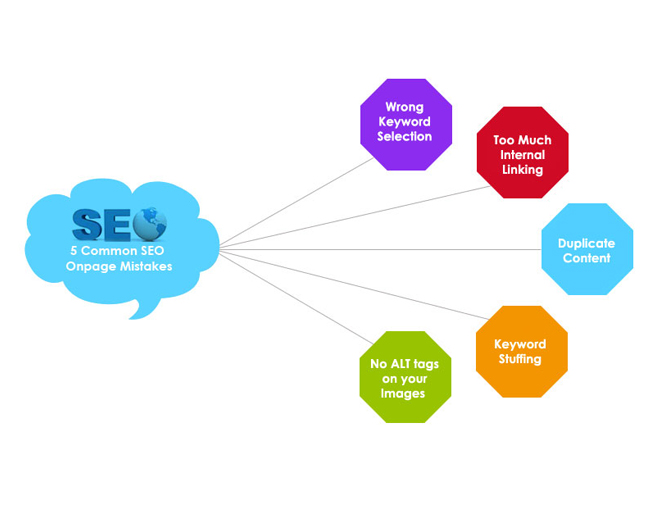 How To Avoid 5 Common On-Page SEO Mistakes
By admin December 26, 2013
SEO stands for Search Engine Optimization. If SEO is done correctly it is your golden ticket to get higher rankings online and as a result generate more traffic to your website. In SEO we have two types of optimization, the first is on-page optimization and the second is off-page optimization. If you search online you will find thousands of techniques that claim to improve rankings. The challenge however is to recognize and see which technique actually works. Unfortunately it is very hard to identify the perfect SEO technique as you will see both positive and negative reviews for different Search Engine Optimization techniques.
"No one is perfect" This saying goes perfectly for Search Engine Optimization today as there is no magic answer as SEO is changing constantly. Let's take 2013 as an example which is ending soon. There have been approximately 15 updates which have been confirmed by Google this year. These are only the changes we as users and SEO experts have noticed whereas Google is making constant improvements to its algorithm. Not only beginners but sometimes even SEO experts also make mistakes when optimizing a website.
Today in SEO one of the keys to success is correct on-page optimization. Below are 5 common on-page SEO mistakes that are made:
✓ Wrong keyword selection: Whenever you are creating a website or planning to optimize it, the key is to select the keywords you want to rank for. When finalizing a list of targeted keywords for SEO you must ask yourself the following questions: What product or services are you offering that you want customers to find online? Why are you selecting these specific keywords? You should select a keyword based on the competitiveness of this keyword, the number of searches performed for this keyword and what actual users will type into the search engines to find your website.
✓ Too much internal linking – Interlinking is very important for a website for Search Engine Optimization. Interlinking means one page of your website is linked with another page of your website. Never overdo this! What will happen is that each link will get less and less weightage due to the sheer volume of internal links on your site therefore diluting your SEO power.
✓ Duplicate content: Content is King and you will hear this over and over and over again. This is the golden key to success in a successful SEO campaign. If you copy or duplicate content you are providing no value, therefore you will get no SEO love. One of the biggest things that Google did this year was to fight duplicate content online. Create and share good unique content and you will be rewarded for your hard work always!
✓  Keyword stuffing – Adding keywords is very important for a website to get higher rankings but it's very important that you don't overdo it. Google can tell what natural writing is versus SEO writing. A good balance of keyword to word ratio is for every 100 words you should mention a keyword 3 or 4 times. Anything beyond this may make it seem to Google that you are spamming and keyword stuffing therefore you can get penalized.
✓ No ALT tags on your Images – ALT tags were originally created to describe an image. It's very helpful to use ALT tags in your images because it will increase your SEO results. If you put keywords in your ALT tags, they will be readable by both the search engines and humans. This will help improve the keyword density of your page.
This is just some of the most common mistakes that you should avoid when you are doing on-page optimization. If you need any advice, guidance, or help regarding any Search Engine Optimization please feel free to reach out to the team at Mind Digital Group. We are always happy to talk SEO!