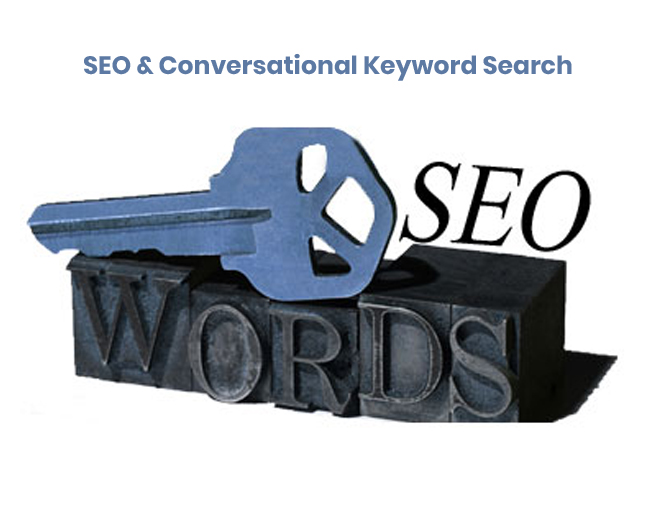 SEO & Conversational Keyword Search
By admin February 21, 2014
Conversational search has grown in recent years with Apple's Siri and Google Voice Search. With more searches than ever happening via mobile devices, conversational search will only grow over time. How do SEO professionals tailor their SEO strategy to take conversational keyword searches into account? To develop a suitable SEO strategy, SEO professionals have to understand the evolution of search and search engines in general.
The idea of the "Semantic Web" was coined by W3C Director Sir Tim Berners-Lee back in 2001. But for "semantic search" itself to become a reality has taken some time. That's because it's difficult for machines to understand and infer user meaning's from their search queries. To deal with the challenge of semantic search, Google has developed its Knowledge Graph database followed by the Hummingbird algorithm update. U.S. Patent No. 8,538,984 (and other patents) filed by Google deals with some of the challenges of inferring meaning from conversational search queries. Google's algorithms are getting smart enough to replace words in search queries with the right synonyms depending on the context. For example, consider the terms "car" and "auto." They might be considered synonyms when used in phrases or search queries such as "car mechanic" or "auto mechanic." However, "railroad car" and "railroad auto" are not the same thing. Google's algorithms are developing the "knowledge" by analyzing web pages and Google now understands when such synonym replacements make sense.
Now that the search engines have the capability to infer user intent, they can return relevant results when a user searches for, say "Chicago pizza place." Google will know that "place" in this query can be replaced with "restaurant." This is the essence of conversational search.
So how does conversational search impact SEO?
Clearly, with Google Panda and Penguin updates, link building and keyword stuffing as a means to improve a page's ranking in the search engine result page are no longer valid. Instead, the authentic way to increase the reputation of a website is to have great content with the relevant keywords appearing on the page in a natural manner. Leave it to the Google crawlers to analyze the site's content and categorize it appropriately.
Remember that Google is tweaking its search results to give better answers to the queries asked to it by its users. This means catering to the growing community of mobile users who are more likely to use conversational search and Local search. Google is placing ever more reliance on Google Local. For local businesses, this means they should be listed on Google Local Business and have a properly optimized Google+ page. Google will judge the quality of that restaurant or salon or bar based on, among other things, the reviews and ratings given to those business establishments via their Google+ pages. All of these will show up when the business shows up in a search result.
As Google seeks to give more importance to authentic and high quality content, AuthorRank is growing even more important. So, it's important to create Google+ pages and link them to the content written by you. As the reputation of a writer grows via social sharing and the number of followers on Google+, the likelihood of his or her articles appearing in a search result grows. The search results also show the number of people in a writer's circle.
So neither Google Hummingbird nor conversational keyword search mean that "SEO is dead." In fact, the continuing evolution of search engines and search strategies by the search providers merely provides new challenges for SEO professionals. Keep your approach natural, user friendly, and work hard as you will be well rewarded for your endeavors. Those SEO companies who have endured in this business for a long time on account of their ethical approach will continue to do well and provide advice to clients that is well worth the money. If you have need any advice or help in general with your SEO campaign, please feel free to reach out to the team at Mind Digital Group.