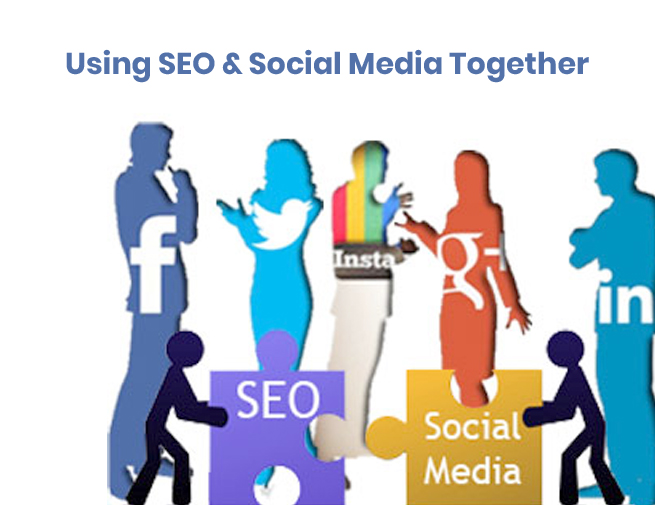 Using SEO & Social Media Together
By admin February 28, 2014
Search Engine Optimization has been there since the earliest days of building websites. With the growth of Social Media, Social Media marketing has grown in importance for not only Social Media but SEO as well. It's important to use the two together to get ahead of the competition. One of the basic things that should be done for your SEO is to get an SEO audit of your site as a starting point to take care of the basics such as optimizing title tags, descriptions, meta tags and so on.
For millenials, almost their entire waking life is spent online and on Social Media. It's normal to wake up in the morning and log into Facebook straight away, check your Twitter, and LinkedIn feed for the latest news. For the millenial generation, Social Media recommendations and what is being said online by their trusted networks carries tremendous weight.
The Social Media marketing aspect of your website begins with maintaining a presence on all the major Social Media platforms: Facebook, Google+, Twitter, Pinterest, Tumblr, LinkedIn, YouTube, and many others. All the pages of your website and all the posts on your blog should have Social Media share buttons for easy sharing of content. Your blog should be frequently updated with new and awesome content that people enjoy reading and sharing. Google loves new original content and this is the drum that they have been constantly beating. Maintaining regularity in posting new content will help you develop a loyal readership. Post updates to all the social platforms on a regular basis.
As an example, Pinterest is very image-friendly; hence, post pictures of your product if you are a business to Pinterest. All this engagement with social media will help you gain more followers, likes and so on. Once a thriving community comes up that loves your website, Facebook page, Twitter handle and so on, they'll spread your message around and act as volunteer brand ambassadors. Search engines love these sort of social signals and they'll in turn reward your site with greater authority and higher rankings. As Google+ becomes more integrated with Google's search results, the value of creating Google+ local business pages (and letting customers write reviews, rank the business on a scale from 1 to 5) has grown. These activities will directly affect local search results in Google. With Google local carousel spreading to more and more categories after starting with local movie, hotel, and restaurant searches, the weight of Social Media signals will only increase over time.
Smart businesses use their Social Media platforms to engage with their customers. Consider an airline facing unexpected flight delays caused by bad weather (something happening ever more frequently); the airline can post updates to all their Social Media channels such as Facebook, Twitter, and Google+ apart from traditional channels such as SMS/e-mail. This will likely be appreciated by their customers. As an example, if you are an online retailer you can offer surprise gifts to customers who share their experience on a company's Facebook page. This not only works with your brand ambassadors but also your unsatisfied customers as well. Address the concerns of your customers whether they complain by a Facebook post or a tweet. Engage them and try to resolve the matter as you would be quite surprised the power of Social Media and connecting with your customers online.
Overall, optimizing and engaging in Social Media is a key part of the SEO strategy in 2014. The likelihood of your online marketing strategy being a success grows manifold when both SEO and Social Media marketing work together rather than working in silos. If you need any help or have any questions regarding your SEO or Social Media, feel free to get in touch with the team at Mind Digital Group.