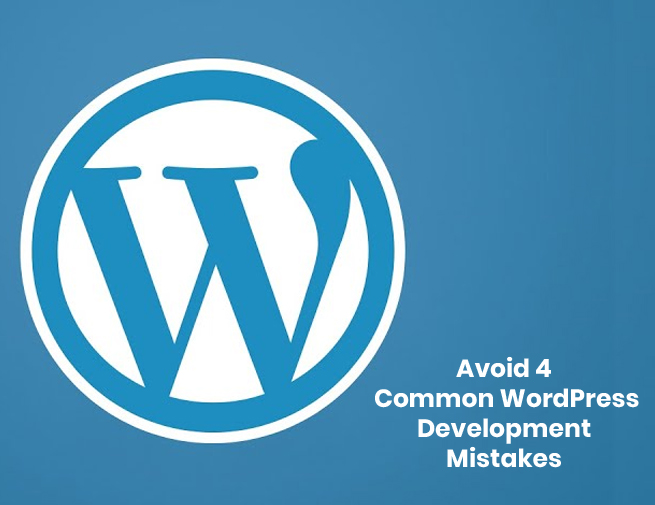 Avoid 4 Common WordPress Development Mistakes
What is WordPress?
WordPress is one of the best, most commonly used, and largest self-hosted Content Management System (CMS) used to create websites and blogs across the world today. It is approximated today that more than 10% of websites are using WordPress as their CMS of choice. The main advantage of WordPress as a CMS system is that it is free and easy to use till some level. Users who have basic knowledge of using a computer all the way up to expert users who have knowledge of PHP can make some serious customizations in this CMS system. Another huge advantage of WordPress is the free support and user base who is always so willing to help with any problems or customization you may need. Now that you have chosen to use WordPress to develop your website or blog, you need to now ensure that you don't make common WordPress development mistakes that happen so often. In this blog-post, we will discuss how you can avoid 4 common mistakes when developing WordPress.
1. Website load time –This seems to be one of the most common issue we notice is the load time of a website. It might seem like a very small issue however the impact of a slow website is very high. Load time matters a lot from both the point of view whether it's search engine or an actual visitor.
For example, if the load time of your website is high, the chances that your visitor will jump to other site is also very high. Not only do actual visitors like a fast loading website but also the search engine such as Google even have tools such as website loading time checkers which help you optimize the speed of your website. Our in-house SEO experts also notice that websites which open faster also rank higher on the results page (SERP).
Search engine visibility or Indexing – There is an option in WordPress so that a user can control the visibility of website to the search engines. Sometimes, in the hurry of making a website live, they forget to check whether a website is visible to the search engines or not. Just because of a single wrong click your website is invisible to the search engines and cannot rank until corrected. It might seem like a simple problem however you would be surprised how many times it happens.
Ignoring WordPress updates – Once your website is completed in WordPress, people ignore WordPress and plug-in updates. From a security update, it can be very harmful and your website can get hacked.
Not deleting sample pages & taglines: This is probably one of the most common mistakes seen on a new WordPress website. After doing everything correctly when developing a WordPress site, people forget to delete dummy content or sample posts from WordPress themes which then get indexed by search engines and start appearing within your website. People also forget to change the tagline of the website which is by default within WordPress as "another WordPress website".
All of the above mentioned points should be carefully looked at when starting WordPress development or even when you are getting it done by someone else. It might seem like common sense but as they say common sense is not so common! As always if you need any help or assistance with WordPress development or anything else, please feel free to reach out to the team at Mind Digital Group.