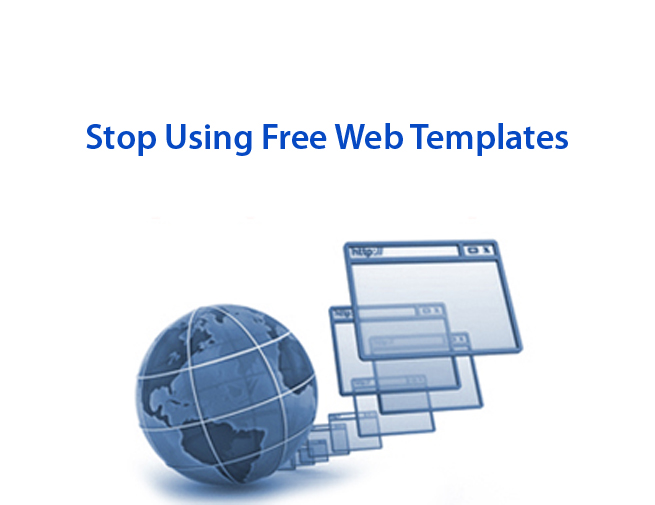 Stop Using Free Web Templates – Hire A Web Development Company
Making a website for your business isn't that difficult in today's times. Just download a free web template, use some do-it-yourself software, add your content and you are good to go. But is this really the way to go for the online face of your business? Not exactly! We highly recommend that you hire a web development company for your website. In the end, the overall cost might be higher however the returns will be even higher. And if you're still not convinced, we list out some pros and cons of both sides – Free Web Templates versus Professional Web Development:
Pros of Free Web Design Templates
✓ It's Free – There are plenty of web design templates available on the Internet for free or they can be purchased for a nominal sum.
✓ Quick & Easy Designing – Since most free web templates offer less customization, you do not have to waste your time and space in your mind customizing the design.
✓ Fixed technicalities – If you're looking at a personal website with just a few static pages, free web design templates can be great. There are fixed set of functionalities available that you can use and much of your work is sorted.
Cons of Website Templates
✖ Clones of your website – Since you used a freely available web design template, there is a very high probability that several others have used the same design too! You can choose to buy the template and stop others from selecting it in the future, but that won't eliminate those before you who have already purchased and used that template. As a result, you may be looking at clones of your website as you browse through the Internet
✖ Not much tweaking allowed – Web design templates do not offer much customization except for some minor image, color or font changes. And if you do need to make some customization, you either take the help of some do-it-yourself software, which requires expertise, or hire a web development company which will cost you money.
✖ Obsolete coding – Many of the free web templates use outdated coding that may not even support all browsers. This means that your website may not render properly and only on some browsers thereby limiting the number of people who can view your website.
✖ Not SEO-friendly – For any business, it is almost an absolute necessity to be seen on the popular search engines to gain traction online. Unfortunately, most of the free website templates are not built in an SEO-friendly manner. SEO or Search Engine Optimization is already complex enough and adding further difficulties by using a poorly crafted template only worsens the situation for your business.
Pros of Professional Web Development
✓ You're Website, Your way – When you hire a professional web development company to design your website, your choice and preferences are asked at every step. This website communicates your brand message, is unique to your taste and what you want the world to see.
✓ Customization – With the help of a web development company working on your website, you have constant support as well. This means that any new features or updates to your website can be implemented easily and flawlessly.
✓ Search Engine Optimized – Since your website is being designed from scratch by development professionals, it can be built to be search engine friendly from the start. The content can be SEO-optimized and the latest techniques can be inculcated to give you maximum traction online.
Cons of Professional Web Development
✖ Higher initial costs – As you hire a professional company to design and develop your custom website, there would be some upfront costs that seem expensive especially when compared to free web design templates that are readily available.
✖ Time Consuming – Professional web development can be a time consuming affair since the entire website needs to be built from scratch incorporating your feedback at each step. Also, considering the number of factors involved like layout, navigation, alignment, SEO, browser compatibility, all of this will take time to implement or customize.
Conclusion:
By listing the above reasons, a clear canvas has been presented to you. Now which picture you choose to paint would depend on your business needs. To sum up things, we can say that free web design templates are quick, easy to use and of course cheap, but they mercilessly limit your brand's visibility due to their limited customization and obsolete coding. Consider them only when you are looking at a very very basic website and have a really low budget. And, if you want your website to truly represent your brand online, invest in a good web development company. You will not just get a stunning website but the overall returns in terms of increased online visibility would be an investment rather than an expense. As always, if you need any help with any of your web development, feel free to reach out to the team at Mind Digital Group.