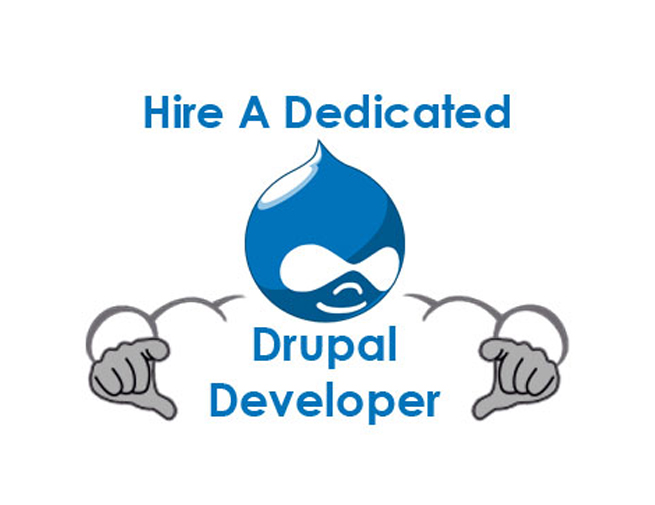 5 Things To Consider When Hiring A Drupal Developer
Drupal popularity as a secure and reliable open source content management framework is skyrocketing. Drupal is a powerful CMS that lets you manage content in a variety of formats including blogs, podcasts, and more. Drupal is highly flexibly and lets you create highly interactive, user friendly websites without headaches. Drupal has more than 15,000 modules and add-ons that let you make your website future-proof.
Combine all these advantages of Drupal and the definite cost advantage of using a reliable Indian website development firm, you have an unbeatable duo. No wonder hiring dedicated Drupal developers makes a lot of sense for companies and is definitely something that should seriously be considered when you are looking to develop a website. Hiring dedicated Drupal developers accrues many advantages to the hiring company. You save on costs firstly as the cost of a proficient Drupal professionals in India is only a fraction of their cost in U.S. or Europe. You get to escape from all the HR overheads, risk associated with hiring the wrong person and even the health insurance costs that result from hiring an in-house developer. Hiring a Drupal developer in India gives you a lot of flexibility as you can hire a professional on a flat-rate basis or hourly basis as per your needs for as long as you need them.
Website development paradigms are shifting all the time. In 2014, it's about the growth of E-commerce websites, mobile surfing, responsive design, parallax design, infinite scrolling websites, and more. Drupal developers at a top-flight website development company such as Mind Digital Group are in tune with the latest trends and technologies. Google is making numerous changes to its search ranking algorithm. Some of them include Google Penguin, Panda, Hummingbird, and more. Only professional web development companies have the expertise to make sure that your website does not 'disappear' from the search results when Google makes some change to its algorithm.
Hiring dedicated Drupal developers can sometimes be tricky. Companies have to do a complete evaluation of prospective web development companies before they settle on one. Here are the Top 5 points to keep in mind as you go about selecting Drupal developers to hire:
1. Technical competence: competence and proven technical expertise in Drupal development is essential since everything else rides on the technical competence of the developers you hire for your project
2. Innovative ability: call it IQ or EQ or anything else but there's more to talented people than just straight as a good GPA in college. Every good company seeks out those talented individuals who have something beyond just good grades. Even Google themselves as a company makes that clear.
3. Work experience: rather than risking your web development project to greenhorns in Drupal, it's smarter to opt for Drupal professionals who have a few years of development and project delivery experience under their belt.
4. Client testimonials: even more important than what is claimed on paper in terms of experience is testimonials/references from previous clients. So make sure to talk to a few former clients of a company before you entrust your own Drupal development project work to them. If a company is able to showcase a string of former clients who are happy to provide positive testimonials about the company, then you can get a sense that the company has a good reputation for delivering good quality work.
5. Price vs. quality: while you should try to drive a hard bargain with an offshore Drupal development company, it may not necessarily make sense to go for the cheapest bidder for your Drupal development project. You have to maintain a smart balance between price and quality. Quality costs money. If you want top quality Drupal development work, you should go for companies who might not be the lowest bidder. After all, good web development companies even in offshore destinations will only be able to attract the best Drupal development talent by paying what would be considered 'top dollar' in that offshore destination.
If you keep the above five points in mind while hiring an offshore Drupal development company, you should be able to zero-in on some top flight offshore Drupal development companies. As always if you have any questions or need any help with your Drupal development, feel free to reach out to the team at Mind Digital group.