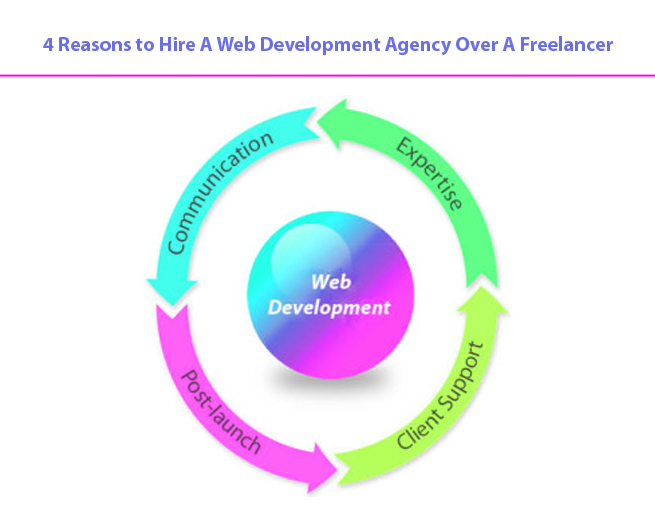 4 Reasons to Hire A Web Development Agency Over A Freelancer
The growth of the digital market is unprecedented and all new entrepreneurs including businesses small or large are trying to hold their ground in the digital arena. With the Internet becoming one of the most important places to shop, the need of a state of the art website in order to promote your products or services is a must, if you wish to survive amongst the tough competition.
Websites have become one of the most important factors in deciding the response of people towards a particular brand or business. The requirement of having a highly sophisticated, professionally designed website is critical, owing to the fact that a user friendly and aesthetically appealing website is the one of the only ways you can get more customers for your products or services online. Your website is your face to the world and as they say, a first impression is a last impression. Getting PHP development onshore of offshore is a great option if you are looking to build or re-build your website. Where you get your site developed is up to you, however offshore PHP development is very cost-effective compared to hiring a web development company locally in the US or the UK as an example. When your hire an offshore development company, it can be almost 80% cheaper compared to hiring a local web development agency.
The question now reaches a crossroads, where you have the choice of either going with a freelance web designer/developer or a web development agency for the job. If you decide to go with an offshore PHP web development company to get affordable development versus hiring a freelancer locally for example, this makes sense for many reasons. Below, we have compiled a list of the benefits of hiring a web development agency compared to hiring a freelancer below:
1. Expertise – An offshore web development agency or a local one will have many experts who have command over various factors of PHP development through hands on working knowledge. Factors such as dynamic web design, SEO, Social Media are all things that need to be considered when you are developing a website. A good website can be more efficiently developed by a web development agency rather than a freelancer as they have workforce with various talents rather than a single freelancer who cannot possibly be good in all fields. In addition, a good PHP development company has worked on many projects across both digital marketing/development and therefore has a wider breadth of expertise compared to a single freelancer. They have the experience and expertise working with a multitude of clients delivering all different types of projects.
2. Client Support – A web development agency will have a dedicated network of customer support staff which will answer all your queries and take care of any complaints you may have. They have a tested and tried system of dealing with customers and delivering PHP development projects. This is very important as all clients like to know exactly what is going on with their project.
3. Post-launch Support – This is another major advantage that of hiring a web development firm over a freelancer. An offshore PHP development company or an onshore one provides various post launch services to its clients as an incentive to working with them and has a team of experts who can handle any post-launch issues you may have. Many times these web development companies have a warranty period or a post-launch support strategy on how to deal with any issues that may incur after the project has been delivered. However, a freelancer may not be able to provide any such services as he is operating alone and has to wear many hats.
4. Communication – Communication between a client and a freelancer is different than the type of communication you can enjoy with a web development company. With different professionals handling different departments, a firm has a better organizational structure and can provide you with real time updates and timely solutions to all your problems regarding the offshore PHP development of your site. In addition, a good web development company has many types of real-time project management software or solutions that give you real-time updates and allow you to collaborate on your project easily.
Summary
It can be clearly seen that choosing a web development agency is always better for web development than going with a freelancer. The only advantage of hiring a freelancer is the cost as you can get a freelancer for a cheaper price. Another option as earlier mentioned is to hire an offshore web development company which gives you the best of both worlds, a cheaper price and a structure organization which has the experience to deliver any type of project you need. If you're looking for any advice or help around your offshore PHP development, please feel free to reach out to the team at Mind Digital Group.