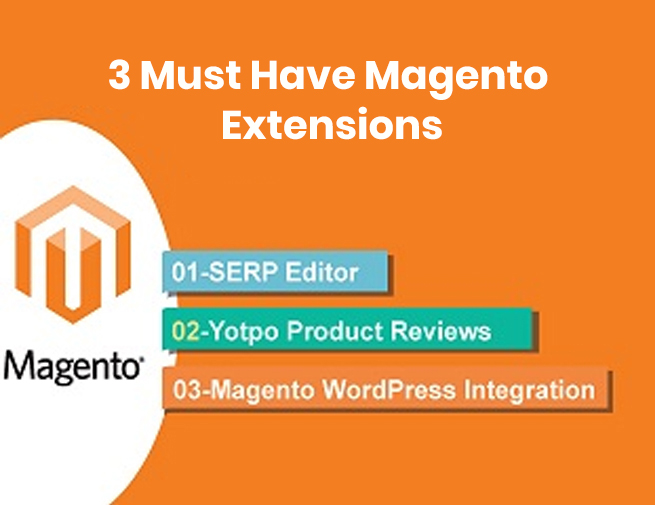 3 Must Have Magento Extensions 2015
It is no mistake or coincidence why the Magento CMS (Content Management System) platform has become the world's most widely used Ecommerce solution for businesses and individuals of all sizes. The reason why people choose to go with Magento development are many such as the fact that is open-source, has loads of plugins/extensions widely available to give you that extra oomph for your online store, has superb functionality, is secure, available in multiple languages/currencies and can easily be customized around your business needs with all that it offers. No matter what your size, choosing to develop your online store in Magento is a decision that you won't regret if you are serious about your Ecommerce capabilities/presence. Granted, they are many alternative options that are available if you are looking to setup your online store but choosing to develop a Magento-based Ecommerce store is a safe and reliable choice. The Magento CMS has loads of free/paid extensions that are easily available but below, we will discuss the 3 must have Magento extensions that you need to have for your online store based upon our past experience/expertise:
✓ SERP Editor – This extension is a must-have and has been developed by the mgt-commerce team. It does what is says and gives an online store owner the ability to easily manage, edit and create what users see within the search engines. Improving your CTR or Click Through Rate is probably the best thing you can do to help improve the conversion rates/increase sales on your website. If you want more conversions which equals more sales, you need the ability to edit/create your meta titles, description and keywords so they are concise, clear and action-oriented. The best part of this is that you can see what a user will see real-time allowing you to edit and action your tag lines according to best practices. Lastly, by developing good titles that a user can see, this will help your SEO (Search Engine Optimization) rankings which is a must in this day and age for your digital marketing efforts. So, you will not only help your SEO efforts but also increase the amount of people that visit your Ecommerce store by enticing them to visit with great titles. The best part of this extension is that it is free and easy to use making it a no-brainer to add on your list during the Magento development phase of your online Ecommerce store. Once you use it, you will really understand why it's been added to our list of must-have Magento extensions.
✓ Yotpo Product Reviews – This extension has really become a must have in this day and age which was developed by the Yotpo team who has done a great job. Today, users purchase products by evaluating the reviews/feedback they see online so why not give them the ability to do this within your online store rather than looking elsewhere which increases the risk of them not coming back to purchase the products or services that you are offering them. If you have good reviews, this will drive more sales to your online store making it a win-win situation for both your customers who get to see them as well as you as an online business owner. During the process of developing your Magento website, this extension is really easy to integrate as it works seamlessly with your products without any headaches. One of the best things about this Magento extension is that it is supported in multiple languages making it a no-brainer if you are looking to tap into the global marketplace which is a must if you are looking to take yourself to the next level. Best of all, it is completely free to use and very easy to use so try it out, you won't be disappointed with what you get!
✓ Magento WordPress Integration – OK, this integration doesn't apply for all people but is definitely one of the most common asked ones in the market today that has been developed by the Fishpig team. If you are looking to connect the most widely-used CMS platform in the world with the most widely-used Ecommerce platform in the world today, then this is the answer you looking for. If you are looking for a WordPress blog integration into your Ecommerce store after your Magento development, then this one is for you or even an existing WordPress website within Magento. Some of the key features for this is that it allows complete integration to fit like a glove, your associated posts and products, categories can easily be managed, single-click WordPress login from the admin of Magento and best of all, you have all the benefits that the WordPress CMS platform offers. When it comes to integration of your WordPress and Magento, then this is the Magento extension you have been dreaming of. Did we mention that it is completely free to use making it a no-brainer once again to try for yourself or even for your clients!
Summary
Creating an online store in Magento is a great idea no matter what size of business you have. If you are one-man show or even a global organization such as Samsung, Ford, Olympus, Lenovo, Magento has it all and then some more! Choosing to go with Magento development is a decision you won't regret as it truly has the flexibility, capability, features, security and the plugins/extensions that almost anyone could ever need to have a brilliant online store. Ensure that if you are working with a development company to help you create your online store in Magento that they have the capability and experience to deliver what you are looking for. Take your time and choose a Magento development partner that knows what they are doing and if you are looking for a trusted, experienced and capable partner for Magento or any other type of CMS, please feel free to reach out to the team at Mind Digital for any of your development or digital marketing needs you have. If you know of any really good must-have Magento extensions then please feel free to add them below via the commenting section.