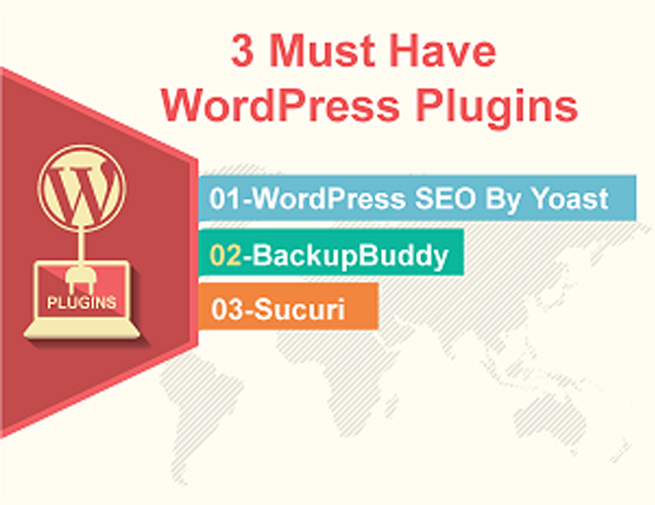 3 Must Have WordPress Plugins 2015
It's no accident or coincidence why WordPress is the most widely used CMS (Content Management System) in the world today. It is estimated that more than 10% of websites are powered by the WordPress platform and when it comes to developing a WordPress website, the plugins/extensions options that users have are tremendous. WordPress development has become super popular due to the fact that it is very easy to use, open source, completely free, flexible and it has more plugins/extensions than any other CMS on the market today. With so many extension options to choose from when you develop a WordPress website, it can be quite a daunting challenge to know what to use or install for your shiny new website. Below, we will discuss and give you details around 3 must-have plugins that you should have on your WordPress-based website:
✓ WordPress SEO By Yoast –This WordPress SEO plugin is not your ordinary plugin for your WordPress website. It is truly the complete all in one SEO solution for your website if you want to get found online. Just having a website is not enough these days, you need to ensure that you have all the tick boxes from an SEO perspective to help the search engines rank your website easily. From the ability to add descriptions or titles for your pages to easily adding an XML sitemap or open graph Meta Data, this SEO plugin does it all and then some! If you are looking for an SEO plugin that can guide you and ensure you are following all SEO best practices to help you rank online after your WordPress development is completed, then the SEO Yoast plugin is for you. It is the most commonly and widely used plugin when it comes to having an SEO plugin for your WordPress-based website. You won't be disappointed with the features and guidance it provides for your website. Best of all, it is completely free to use and very easy to install. All of our WordPress websites and our client's websites have SEO Yoast installed on them.
✓ BackupBuddy – You have finally developed your WordPress website and it's now live, great! Now, one of the most important things that need to be kept in mind once the WordPress development is completed, is how you plan to keep ongoing/up to date backups of your WordPress website as things happen which are unexpected. Using BackupBuddy is the ultimate solution and is the most widely-used backup solution for backups of a WordPress-based website. It is the easiest to use, and most friendly WordPress backup and migration plugin available today. This plugin allows you to easily schedule backups automatically, store them on the cloud and most importantly be relaxed knowing that your website is being backed up constantly without any headaches. If you are looking for a solution when it comes to backing up your WordPress website, you won't be disappointed by choosing to go with BackupBuddy. The last thing you want is your website to get hacked or go down for any reason and not have an up to date backup which can harm your business or reputation.
✓ Sucuri – Securing your website needs to be taken very seriously nowadays. With all the hacking, malware and viruses that are freeflowing, you need to try and stay protected as much as possible. One of the most important basic things to keep your website running safely is to ensure that you are regularly updating the WordPress CMS through the admin dashboard reminders that pop up reminding you to update your WordPress website with a newer version. Before you update your website, download it locally if you can or tell the WordPress development company you are working with to do it and then update your WordPress version as sometimes plugins stop working after a version update. Besides this best practice that should always be kept in mind, a plugin that can really help you in monitoring and helping you ensure your WordPress website is secure is the Sucuri extension. Sucuri offers many things for its users such as website security scanner features, real-time updates and it even offers a malware removal service option. Millions of websites get hacked a year and you don't want to be one of them. By having this plugin for your WordPress website and keeping your WordPress up to date, you can seriously mitigate some of the risks when it comes to website security/stability.
Summary
The WordPress CMS has thousands of plugins that are easily and widely available for all users across the globe. From completely free solutions to paid solution, the options that WordPress users have are many. It's no surprise that many large organizations use the WordPress CMS such as CNN, SONY, UPS, Jay-Z, The Rolling Stones, TechCrunch, Samsung, IZOD, UPS, General Motors and many more rely on the features, security, functionality and capability that the WordPress CMS offers. The above plugin list is by no means a complete one but just some of the most popular/most recommended based upon the WordPress development that we have encountered/done in the past. If you recommend or know of any other really good WordPress plugins, please do list them below in the comments section. If you are looking for an experienced, trusted and capable WordPress development partner, please do reach out to the team at Mind Digital for any of your development or digital marketing needs you have.