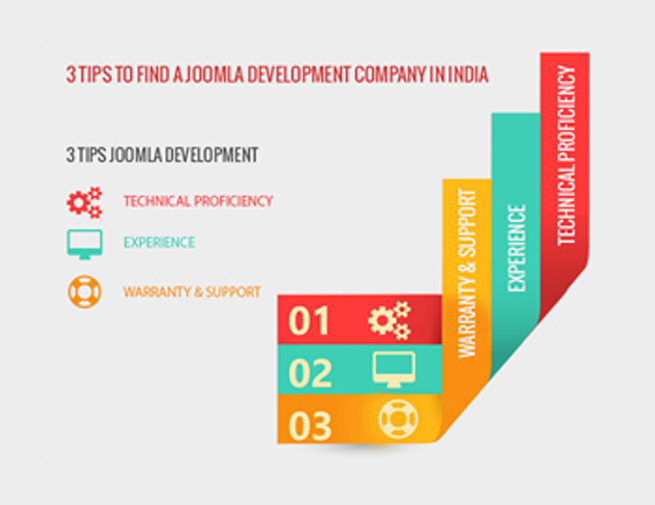 3 Tips To Find A Joomla Development Company In India
You have finally made the decision to go with the Joomla CMS to run your corporate website. One of the biggest reasons why people choose to go with the Joomla CMS is the fact that it is very easy to manage content-heavy sites when compared to other CMS platforms such as Drupal or WordPress to name a few of the main ones. The reason why so many people choose to go for Joomla development is that it is completely free to use, open-source, easy to customize, has a simple admin interface, contains an umpteen amount of robust features, has the ability to have multiple roles/user levels and so much more.
Now, you are looking for a Joomla development company to help you create the website you have always wanted but don't have a huge budget to do it locally and you don't want to hire an internal team to build your Joomla website. One option which many companies choose to go with is to hire a Joomla development company in India to help them with the creation of their website. India has become a go-to location when it comes to web development or really any type of software development due to the low cost of living, English-speaking professionals and the amount technical manpower that exists. Small businesses as well multi-national organizations rely on India for the vast amount of offshore development expertise that it provides. Below, we will discuss some things that you need to keep in mind when you are looking for an offshore Joomla development provider in India or really any country in the world for that matter:
✓ Technical Proficiency – This is an important factor that really needs to be kept in mind when you are looking to work with a Joomla development organization. The technical proficiency of the staff needs to be carefully evaluated to ensure that your offshore web development project is a success as the people who work on your project will have a direct impact on it. One thing that you can do to evaluate how technically capable this partner is speak to the web development professionals that will be handling your project to get a good sense of their capabilities. In addition, check to see if they have delivered similar Joomla-based projects in the past which gives a good indication about many things during the evaluation period. If you are looking to hire someone part-time or even full-time for your organization for example, then definitely conduct an interview and see the CV of the potential Joomla developer that you will be working with. Be direct with the Joomla development company in India you are evaluating as the more questions you ask, the more information you will get in return.
✓ Experience – This is by far one of the most important if not the critical deciding factor when evaluating an offshore Joomla development provider. Past experience and expertise speaks volumes about the capabilities and ability to deliver successful projects in any industry for that matter. You can do many things to probe into this area such as asking to see similar Joomla projects they have delivered in the past, ask them their opinion on your web development project documentation or methodology and lastly speak to client references to get a sense of how this Joomla development company in India actually is. By speaking to clients they have worked with, you will truly get a sense of what this company is all about and if they are a good fit for you. The more you dig into the Joomla provider the better off you will be so that they are no surprises for you as the company that hires them or even them as an offshore web development provider. Lastly, don't always let price the ultimate deciding factor when hiring an offshore Joomla development company in India as that is the wrong approach. Granted, you are working with an offshore web development company to save money but by no means should be the key deciding factor although it is a very important factor. Choose someone that is competitively priced in the market but don't pinch pennies as this will cause you lots of problems in the long run if you choose the wrong Joomla company to work with due to the almighty price factor. Sometimes, companies will literally do the work at cost to win clients which is the complete wrong approach and you definitely don't want to get sucked in with that type of web development company.
✓ Warranty & Support – Delivering a successful project is definitely the most important thing but some people forget that once your Joomla web development project is completed, there is other things that also need to kept in mind. The Joomla development company in India you are working with needs to be asked questions around the warranty period they will provide, the post-launch support they will offer, escalation timings in terms of critical, normal or low priority problems you may face and so on. Try to really dig deep into the warranty and support that the offshore Joomla company you are looking into to get a true sense of how things will be after your Joomla project is complete. Lastly, ensure that all things are in writing for both parties so that you don't end up with a problem that is not supported or will not be solved by the Joomla development company you are working with. The clearer everting is, the better off all parties will be especially when it comes to post-launch support/warranty period.
Summary
Working with an offshore Joomla development company in India can be a very rewarding and fruitful experience if you are able to find a capable partner who can deliver against your business needs. The money that you can save, the time that you can save and the headaches that you can save are all a great situation for you as a business. However, it's not as easy as it looks when choosing an offshore web development company to work with as you need to carry out the necessary due diligence and take your time when choosing an offshore Joomla provider to work with. If you follow some of the above points or advice when choosing an offshore company to work with, it will definitely make your life a lot easier and allow you to choose a Joomla partner that knows what they are doing. If you are looking for an offshore Joomla development company in India to help you with any of your web development needs you have and has the experience/expertise to deliver, please feel free to reach out to the team at Mind Digital for any of your web development or digital marketing needs you have.