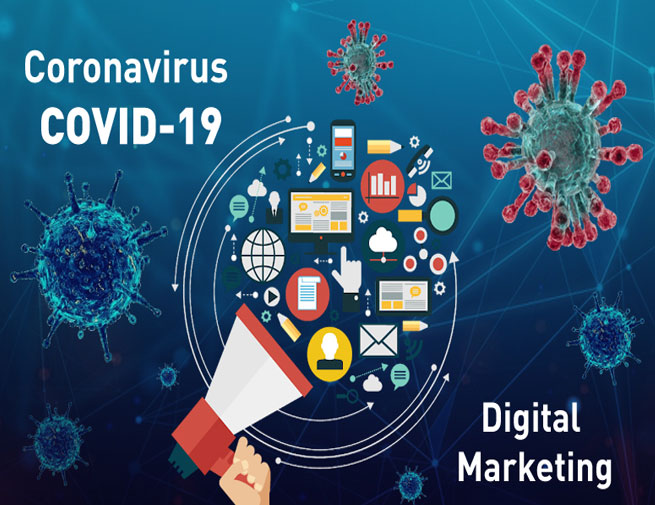 8 Digital Marketing Ideas to Consider During the Coronavirus
The coronavirus has put the world at a big risk, hasn't it?
In fact, the spread of COVID-19 is causing considerable gloom on the planet.
But yes, tough times are never for perpetuity and will always lead to hope and this shall too pass!
Amid these dark times, we have a reason to feel a bit hopeful about: the cases in China are subsiding (or coming to a total standstill). Even though the epicenter has shifted to Europe and the USA, the China recovery instills some confidence.
Since good times will come, businesses should be ready to make the best out of them.
It's true that the conditions are not right at the moment, there will come a time down the line when everything will be back to normal ( In next 30 days, hopefully) and then your business will have to do the recovery in true sense.
This is where digital marketing will hold your business in right position as you certainly don't want to undo the efforts put in before the arrival off the virus.
At a time when people are closed indoor but connected to the internet all through, your business can count on the power of digital marketing to reach out to the target audience and continue on with their solid presence on the web.
More importantly, digital marketing can help your business sail through the times of despair and keep their presence intact. With right ideas and strategies, you can always leverage digital marketing platforms and ensure value to your brand presence.
So, you can either hire digital marketing experts or devise a proper plan and go on the spree to reclaim the loss ground in the time of coronavirus.
Here are 10 digital marketing ideas to consider during the coronavirus –
1. Use social media to connect with your target audience
Social media is always a wonderful tool to spread brand awareness and travel a fair bit of distance without spending much. Since lockdowns are everywhere and people are stuck at their home, there can't be a better platform that social network to connect with your customers and gain their trust. You can provide them timely updates and give them some hope in tough times.
More than the lure of brand promotion, social media can be used for educating, information, enriching and entertaining your target audience. You can make use of popular social platforms like Facebook, Twitter, LinkedIn, and YouTube and add a new dimension to spreading awareness and delivering value.
2. Maintain your search engine visibility (SERPs)
The COVID-19 does not mean you take the foot off the pedal and allow your search engine visibility to slide to the bottom of the heap. It's true that most people are at home but it's also true that online searches have gone up considerably in recent times. Your business can still make some difference if it's found online by people.
So, it's always better to use search engine optimization (SEO) strategies and maintain top rankings in Google and other search engines. Unless your business is visible, it can't add any value to the world and you need to understand that well. People may still place orders online and thus you got be up to the task always.
3. Save money with pay-per-click (PPC) advertising
PPC or pay per click advertising is definitely a right move to target your audience and save some money with your marketing budget. You can not only connect with your target audience but also target specific demographics. PPC is also a smart move as cost per clicks (CPC) is decreasing in recent weeks, this giving you a chance to target audience without spending much.
With most of people glued to their PCs, you can always rely on the power of paid advertising to do the job for you and put your brand and business in front of the right audience. With reduced competition around, you will have a better chance to capture traffic and boost conversions.
4. Keep your website optimized and updated for better conversions
The success of all your digital marketing effort will hinge on whether your website is updated and optimized for the task. An updated site is one with right design and development in place while an optimized site is one having SEO campaign on to stay at the top of search engine result pages (SERPs). Make sure your targeted keywords are performing according to expectations in search engines.
More so, you must not lose out on search results, else competitors can fill in the gaps and easily pip you to the post. With ongoing optimization, your website will always maintain a better visibility in search engines and that can prove beneficial in long run when the glom scenario paves ways for better times.
5. Make your business ready for 'good times' ahead
Good times will definitely come when the horizon is as full of hopes as just a few days back. So, your business should plan and prepare itself accordingly so that the hard work pays when the dust settles off. Rather than waiting to bounce up immediately, it's always better to keep the gas on and allow the pedal to move, even if a bit slowly and this is where SEO can help.
When optimization is a part of your digital marketing efforts you can always be sure that organic results will happen sooner rather than later. Unlike paid ads, the results of optimization linger on for way longer and that's why you should never shun the glory of SERPs.
6. Use discounts and special offers
There was never a better time than these to dish out discounts and special offers and support your customer base. The sales will be down and if you don't want to lose revenue make sure some discounts and offers are there in place. You can always create a special offer based on the specific needs of your target audience.
Since the flow of money is down for everyone, your discounts and special offers will be lapped by customers. This will surely be a great strategy to engage with your customers and give them some value and win value in return. With PPC and social media, it would be easy to push through discounts and offers easily.
7. Push through local searches (or local SEO)
Local searches are more relevant today than they have ever been before. Since people are stuck at home and mobility is low, you can't expect them to move out far for their products or services. The situation has also given more focus to nearby supplies and services and that's why your local SEO strategies hold more value today than ever before.
It's therefore important to optimize your website for 'near me' searches so that your potential customers can reach out to your store and give it business. At a time when people are not able to move out freely being local can prove the difference you have been looking for.
8. Seek positive reviews and favorable feedback
Positive reviews and feedback can add tremendous value to your business in a time when people first check for online reputation of a company before engaging with it at any level. You can ask for positive reviews in response to serving your audience in tough times like these. You can always try to increase your site's business profile and Google profile so that when everything is back to normal you business too does not take long to recover.
Clearly, tough times are not going to exist for longer and it's always better to find the support of a top digital marketing company to keep your online presence fruitful in every sense of the way. It can help you benefit from digital marketing ideas so that your brand presence is always solid on the web.