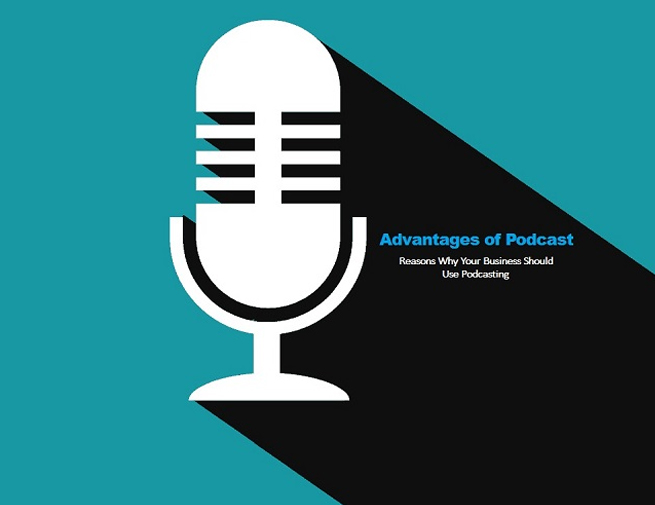 Advantages of Podcast: Reasons Why Your Business Should Use Podcasting
Podcasting is becoming increasingly popular as a medium of conveying information and connecting with the audience. It's basically a set of digital audio files on the web which anyone can download and listen on the go or anywhere. More listeners now subscribe to podcast to receive the digital files and listen to topics or theme that interest us. With podcast, businesses can reach to the audience, convey brand message, establish the much-needed connect and boost their prospects.
Yes, podcast is now a powerful marketing tool used by brands small and big alike for information, enrichment and prospect generation. In fact, podcasts are now new 'talk radio' on smartphones and their amazing growth and ever-rising popularity has much to do with the explosive increase in mobile penetration. For all reasons, podcasts are now key to marketing strategy with immense potential for success. Any business can launch a podcast and gain big in a cost-effective manner.
Here are some of reasons why a business should use podcast –
1. More listeners are tuning in
Thanks to the amazing reach of smartphones, more people now listen to podcasts that ever before. Some do it daily while some weekly to catch up with the content or theme that catches their fancy. Several studies have already pointed out to the much-needed spike in the number of podcast users from across the world. Hence, brands have reasons to use podcast for marketing and education purposes.
More importantly, the use of podcast for marketing can suit businesses across industry verticals, be it the finance, legal, real estate, service etc. It's perfect for an enterprise that caters in an industry with a high customer value. With more users listening, chances are your business can use this captivating medium to target own listeners and get the message across.
2. A perfect tool to do one-on-one with clients
Podcast is easily the most effective marketing tool when it comes to doing one-on-one with prospects or customers. It can be just perfect when the goal is to educate or inform users of something that delivers value to them. The podcast allows a business to reach to as many listeners as possible, which is not feasible or viable or even possible when done in one-on-one basis.
More so, businesses can leverage the reach and productivity of podcast to cater more qualified prospects. The tool is very helpful in sharing expertise, removing doubts, expanding horizon for any particular idea of topic and establishing an enduring relationship with clients. It can be used to establish credibility on the back of relationship.
3. Catch the attention of high-quality customers
Marketers find it quite difficulty to convert those customers who don't stick around. The podcast however is suitable to targeting customers in industries where customer lifetime value is on the higher side. Brands can use the audio medium as the best education platform and enrich clients with value in the desired manner. In fact, podcasts do better than videos when it comes to conversion through education.
Even if listeners may not tune in everyday or weekly to feed on the message by brands, the podcast is still a great tool to building a relationship or build a certain following. You can generate a loyal customer base without much of frills and investment, and chances are, some of them onboard quickly than you even imagine. This is how businesses can catch high-quality customers.
4. Easy to start
Contrary to popular belief, starting a podcast does not involve a lot of work. It's simple and hassle-free and can fit in the schedule easily. If you are ready to show up as the host and talk, the podcast is ready and going. Even if the schedule is crammed, one can outsource virtually every aspect of the podcasting and go about their business in a usual manner.
You can leave all the technicality on experts to handle, like transcription, show notes, editing, guest booking etc. and just turn up and talk. If you have some great ideas you want to share with the world, there is no stopping you literally as far as the podcast goes. You can launch it within 10 days itself and reach to the audience easily.
5. It's amazingly cost-effective
Podcasting is unlike those heavy-duty marketing tools that require big budget. This medium is quite affordable, and anyone can thus dream of launching a podcast to reach to the audience. It just needs a mic and hosting to start a podcast. You can start a podcast in as little as $20 a month which is something anyone can afford.
The fee asked by big platforms to host podcasts will also range between $ 70 to 100 which is quite manageable. All this when you are ready to do the editing and production yourself and not outsource any aspect of the podcast. If you however look to hire experts for the job, be ready to shell out $500 a month or so and convey your brand message perfectly.
6. ROI is impressive
Podcasting can be lucrative if done in professional and systematic manner. Brands can easily leverage the effectiveness and popularity of audio medium to generate revenues, provided the podcast delivers value. The more your podcast educates and enriches customers, the more it shares expertise and removes doubts, the better it will perform bringing leads and sales on the expected lines.
What's more, a podcast can bring handsome revenue through sponsorship for your having an audience that others may be interested in serving in lieu of money to you. The return on investment (ROI) will be impressive when podcasting is used as a marketing tool to reach out to customers and educate them on topics they desire.
You can clearly see the huge potential a podcast brings for your business which you can encash and achieve growth. So, trust a team of digital marketing experts to set up the best podcast for your business and help take brand message, ideas and value to clients in a cost-effective manner.