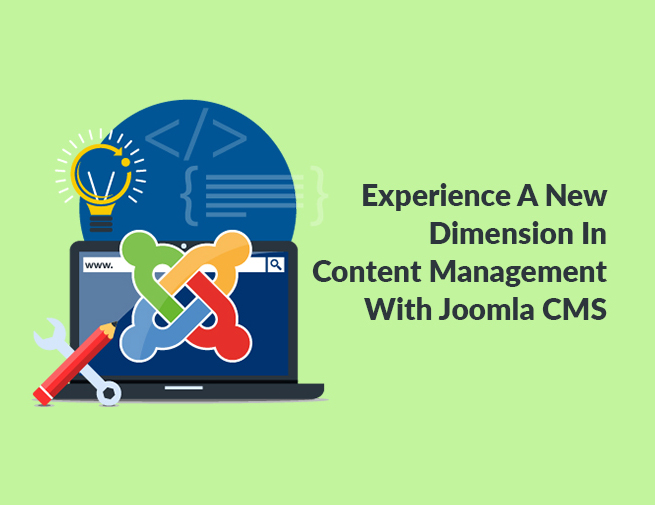 Experience A New Dimension In Content Management With Joomla CMS
By admin December 20, 2016
Every business these days understands the value of building powerful websites and online applications. Only high-quality web-enabled tools or products can ensure success in the digital work and help businesses realize their objectives in a timely manner. This is where the need of top web site software is felt to have an edge in the market and take the business to a new high of growth and expansion.
Joomla is an award-winning content management system (CMS) which experts consider perhaps the most popular website software in the world. This open source piece of technology is freely available to anyone looking to get top quality websites and apps. It comes packed with a variety of features and functionalities that make it redefine the landscape of content management.

Utility of Joomla as a content management system (CMS)
Content is the king and we need to manage them perfectly to help websites or apps realize their true potential. Joomla is a type of software that redefines content management and helps every piece of the content to be managed in a desired manner.
Using Joomla, you can serve a variety of purposes, including –
✓ Keep track of every piece of content on the site
✓ Manage, publish, update and edit content of any variety, be it simple text, video, documents, photos, music, or anything
✓ You don't need any technical skill or knowledge to manage the content as the CMS will do all this with ease
✓ You can get developed websites of any shapes and sizes to power your business ahead
✓ Millions of websites are being powered today using Joomla and yours can be one of them
✓ You can get all kind of web-enabled solutions developed, be it portals, corporate sites, community-based portals, social sites etc.
✓ You get the support of a scalable MVC architecture build web applications.
✓ You get the back-up of over a half million active contributors with an ever-growing community to realize your digital dreams with ease
Clearly, you can trust Joomla development India and ensure growth and success for your website and business at the same time.

✓ Features of Joomla CMS
Joomla is a popular CMS and it's growing to be a choice for developers and designers alike. You know after all understand the reason that has made this piece of technology so likeable worldwide.
Here are top features of Joomla CMS –

✓ Multilingual
It's a multilingual CMS platform offering support to over 65 different languages in the world. Thus, it's possible now to present websites in multiple languages to make them more accessible worldwide. This is how even low investment can help you reach to a wider audience.

✓ Easy Updates
Software are never easy to up updated. The same is not the case with Joomla as its "One Click Version Update" feature ensures that anybody can update it without needing much of skill. In fact, it notifies when any update is due!

✓ Integrated Help System
Thanks to the presence of an in-app contextual help, any level of use can operate this CMS with effortless ease. With a help button on pages, it never takes much to become familiar with all options. Other materials for help include a glossary and version checker.

✓ Media Manager
Whether you need to upload, manage or organize media files or folders, you can do with ease due to the presence of the Media Manager. The presence of the configurable MIME settings help you handle even more file type. In fact, the worth of the written content can be boosted by enriching them with varied media types.

✓ Banner Management
Monetizing the website is a reality and you can add advertising with ease. Using the banner manager tools, anyone can create campaigns, add banners and do all what it takes to track the clicks. This feature is not available with any other CMS.

✓ Contact Management
Move over from having just one contact form on the site. Have several of them together with adding categories and departments to widen the next of basic contact information. You can set up a contact form easily and let more users access the site in a hassle-free manner.

✓ Search superiority
Joomla enriches your website and apps with the built in search and smart search so that visitors can enjoy the search superiority. So, at one side, visitors find them easily and smartly while on the other, you can leverage the statistics and know what they need. This is how you can present content in better way and target visitors easily.

✓ Content Management
The presence of inbuilt WYSIWYG editor make the task of content creation ease and it also simplifies content editing. Anyone can edit content without any much of code knowledge. The content can be shown on the frontend and you can benefit from modules to make the favourite content visible more.

✓ Frontend Editing
It's now possible to click and edit from the frontend itself without bringing the backend into play. This way, content editing turns absolutely easy and speedy. So, simple edits are possible without logging into the admin section of the site!

✓ Content Versioning
Changes made to the content are now easy to track, so does the person who did that change. This way, no content version is ever lost and remain in the look about the editing and the people who did the same. And if you're not satisfied with the changes to the content, there is always a possibility to revert back to the original one.

✓ Customization benefits
Joomla is a CMS that can be customized with ease. This is how websites are extended and their functionalities are broadened with ease. Your task is made easy by the presence of over 7,500 extensions and you experience a new dimension in enhancing the power and utility of your website. This is how your website grows and realizes it true potential.
Quite clearly, you should hire a Joomla developer at the earliest to give your website and business the edge and benefits of perhaps the most popular and most powerful content management system in the world.