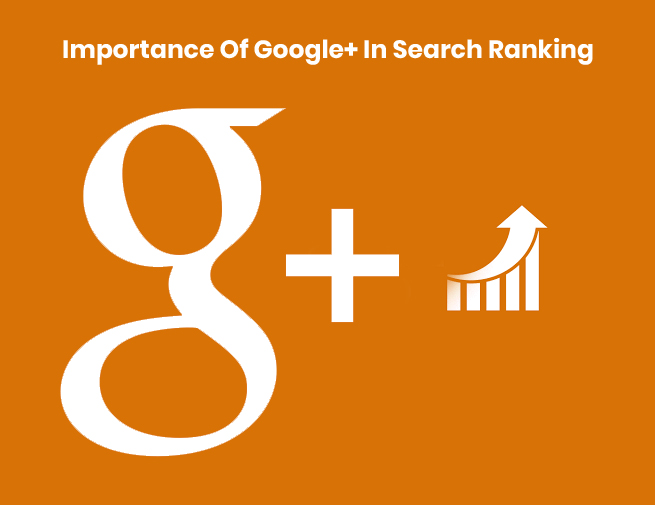 Importance Of Google+ In Search Ranking
By admin February 3, 2014
Google has a two-pronged strategy to remain the dominant player in the Internet space. This aim, Google seems to have accomplished quite definitively, considering that nearly 90% of search worldwide happens in Google. Bing and Yahoo Search remain smaller players at best despite Microsoft pumping billions into its search business and Yahoo/Microsoft getting together in the hope of presenting a more serious challenge to Google's dominance of the search space.
The other battle Google intends to fight is to be a major player in the Social Media space. After miserable failures like Google Buzz and Orkut, Google still wants to break into the Social Media space and compete with the winners like Facebook and Twitter. Google's latest offering in the Social Media space is Google+. Already, Google+ is the second most widely used Social Media app after Facebook.
In a way, Google is using its dominant status in search to push users towards using Google+. The latest such change was linking Google+ profiles and YouTube comments. This generated a lot of outrage among users but things have grown quiet now in a manner reminiscent of the usual protests that accompany any modifications to the Gmail interface. It has become a predictable cycle of loud protests followed by eventual acceptance.
We cannot live without Google. And Google knows that.
So Google will continue to integrate Google into more and more of its products. Online marketers and professionals need to adapt their strategies to the reality that Google+ plays a role in determining the search ranking. This goes beyond Local Search and Google Local Carousel.
To do well in Google Local search listings, every business website needs to have a Google+ page with the business name, address and phone number listed. The information on the Google+ page should exactly match the information on the company's website. Otherwise, Google's crawlers will tend to get confused thus reducing the value of the Google+ page.
If you have a small business such as a bar, restaurant, beauty parlor, or sauna as some examples you should make sure to list your website in the relevant categories on Google. Once this is done and the Google+ page is also ready, when anyone searches the relevant phrases, your businesses will feature in the search results. If you're a dentist in Denver and your business address is mentioned on your website and Google+ page, you are likely to come up in the search results when someone searches for 'dentist in Denver' or 'cosmetic dentist in Colorado' or similar searches. Of course, rankings depend on a bunch of facts (literally 'hundreds'), and Google will 'rank' all the 'dentists' as per its search matrix. A business with a Google+ page gets a leg-up in this competition to get listed higher-up in Google.
Once there is a Google+ page, it facilitates social sharing and interactions and a place where interactions can occur. If a Google+ page is liked (+1) by many people, that adds to the reputation of the page and the business. When someone has liked a page on Google+ and searches for relevant phrases, the website that the user has already liked will feature higher as the user has already shown a liking for that site. Also, when a user shares a post on his Google+ page, it goes out to all those who've this user in their circles. They might like the page in turn and share it on their Google+ making it visible to even more people. Thus shares and likes on Google+ can build a web of interactivity that lets the Google crawler know about your business and rank it appropriately.
You can set up Authorship with your Google+ profile. Since Google is giving more prominence to detailed content in its search algorithms, having linking Authorship and Google+ will lead to the author's details showing up in the search results.
The bottom-line is that Google+ will play a key role in Google's overall strategy. If you need any help with your Social Media strategy or guidance on Google+, please feel free to reach out to the team at Mind Digital.