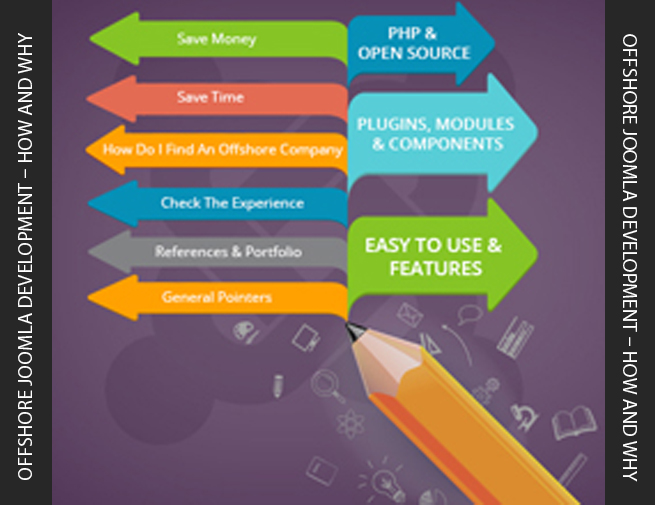 Offshore Joomla Development – How And Why
If WordPress and Drupal had a kid, it would be the Joomla CMS (Content Management System). This funnily named CMS platform is the perfect mix of the easy to use WordPress CMS along with the robust development capabilities that the Drupal CMS provides. Before we get into how and why to choose an offshore Joomla development company, lets discuss some of the benefits that the Joomla CMS provides and why so many people across the globe have chosen to use this CMS platform for a wide array of needs. The Joomla word itself originates from the Swahili word "Jumla" which means "all together or a whole" as they wanted to create a wholly inclusive solution. First, lets discuss some of the benefits that the Joomla CMS platform provides its users
Some Benefits of Joomla
✓ PHP & Open Source – The Joomla CMS framework is completely built in the PHP programming language which is the most common scripting language in the world today. Many famous websites such as FaceBook, Yahoo, Wikipedia, Digg, Friendster, Flickr along with a whole host of others are built in the PHP programming language making the Joomla CMS a safe, reliable and secure choice. In addition, the Joomla CMS is fully open source meaning free to use and they are no licensing fees or other associated or hidden costs. In addition, since the Joomla CMS is written in the PHP programming and is fully open source, it can also be easily adapted to your business needs with the help of an offshore Joomla development professional that knows the PHP programming language. A PHP development professional that knows how to use the Joomla CMS can easily customize your project based around the needs you have since Joomla is built in PHP and is open source. Lastly, since this development language is so widely, you can easily hire and find a wide range of offshore PHP development professionals to help you with any of your development needs you have.
✓ Plugins, Modules & Components – Since Joomla is open source and has a huge amount of users across the globe, more than 90% of the time you can find what you need as its been created in the past. Similar to WordPress, the Joomla CMS has a huge range of ready to use free and paid plugins or modules options that are easily available for happy consumption. More than likely almost any type of functionality or feature you need has been created and is available in the market in some way shape or form. Ask the offshore Joomla company you are working with for guidance and suggestions when it comes to creating the Joomla-based website features you need as more than likely they have added some type of modules and plugins in the past for other customers. When it comes to additions, rest assured knowing that the Joomla CMS has loads of them making it a great platform no matter how big or small your needs may be.
✓ Easy To Use & Features – The Joomla CMS platform is not as easy as WordPress but it's definitely easier than the Drupal CMS platform for that matter. It's really the middle road but the Joomla CMS is really built for people or businesses who have lots of content and want to be able to manage it easier. For example, if you have thousands of pages that you need to be able to manage, edit or add information, there is no better choice than the Joomla CMS platform. In addition, they are many features such as multi-user features which allow you to give or limit access to certain people depending on their relevant job responsibilities which is a great tool ensuring that nothing accidentally happens which sometime does! Ensure that if you are working with an offshore Joomla development company in India or any other country, they should provide you training and assistance on how to operate this robust, feature-rich and secure CMS platform.
Why Offshore Joomla Development
✓ Save Money – The most common reason why people, companies and businesses of all sizes go the route of offshore web development is the money that they can save. For example, a Joomla development professional in the US, UK or Australia will cost you anywhere from 40 USD an hour to 100 USD an hour depending on the experience and whether the person works for a company or on a freelance basis. Compare that to an offshore Joomla development professional in India for example which can cost you anywhere on the low end from 10 dollars an hours to 40 dollars an hour, you pretty much understand why people go this route. If you can get the same thing or a similar thing done offshore, then why not save that money and re-invest it into other parts of your business that need it. If you can find a reliable and trusted offshore Joomla development company to work with, you can really save money and add it to your bottom line which is a win-win situation.
✓ Save Time – For example, you have finally decided that you want to launch a Joomla-based website or project, now what? You would probably put this job opening on Indeed, Monster, LinkedIn or the other countless job portals or you would hire a recruiter to help you find someone. This takes time and can take a lot of time which equals money at the end of the day. If you are looking to speed this up, hire an offshore Joomla development company who does this day-in and day out. Besides time, you can also save operating expenses such as software/hardware fees along with HR headaches and lastly the whole headache of trying to manage or find the right people to complete your Joomla project which is cumbersome to say the least. Save time and hire an offshore web service provider which knows what they are doing as they will be able to deliver you what you need in less time than you ever imagined. Lastly, if you are choosing to work with an offshore web development company in India for example and are located in the US, the time difference is significant which can work towards your advantage as while you sleep, work can be getting done which can also speed up the delivery time. Save your time and stop trying to figure it out which in turn will end up costing you a lot more in the long run.
✓ How Do I Find An Offshore Company – A simple Google search will literally yield you millions of search results and thousands of companies located everywhere from India to the Philippines and everywhere in between making the choice intimidating to say the least. The first step is ask around to see who has actually gotten offshore web development work done in the past as you would be quite surprised at how many companies and people are either getting work done offshore or have gotten it done in the past. The best possible recommendation someone can give you is the experience of actually working with an offshore service provider in the past so ask around for recommendations for companies people have worked with in the past. Let's say for example you can't find anyone or don't know anyone who has worked with an offshore Joomla development company in the past, how do you actually evaluate an offshore web development service provider. Below is a simple list or really things that should be looked at or kept in mind for that matter before you start working with an offshore web development company:
✓ Check The Experience – Like anything in life, experience matters and this same principal remains constant for web development so do not change path at all. When speaking to the offshore Joomla development provider you are evaluating, check to see if they have delivered or even worked on a similar project in the past as you would be surprised how much similarities come up if you ask the right questions. For example, if they have worked on a similar type project in the past or are currently working on one, ask to see it and if they haven't, check to see what other Joomla-based projects they have completed in the past to get a sense of how much work they have delivered on the Joomla CMS platform. Experience matters so ensure that you are working with an offshore web provider who really knows Joomla in and out to maximize the results/minimize the headaches for your Joomla development project. Lastly, try to speak to the technical staff that will actually be working on your project to get a good sense of the technical capabilities that this offshore web provider has on staff as it is critical for your project since they are the people who will actually be doing the work.
✓ References & Portfolio – To further emphasize the point above, you need to ensure you are looking at and evaluating the portfolio of completed or current Joomla projects to get a good sense of the Joomla capabilities that this offshore company possesses. Ensure that you are also speaking to client references to get a good sense of the delivery, communication and overall gut check of the offshore Joomla development company you are looking to work with. The better the references and the better the portfolio of work, the better it will be for you as you will have confidence that they can deliver what you are looking for within the Joomla CMS. If you can find an offshore company that has both great references and a good portfolio of work, you can be more comforted knowing that they have delivered this type of work in the past which is a big confidence boost when selecting an offshore company to work with.
✓ General Pointers – If you have selected some offshore Joomla providers to work with based upon the references, portfolio, experience and technical staff, now what? You need to also really lay out, evaluate and make clear the expectations from a communication and project management standpoint which can often be overlooked very easily. If you have a preferred medium of communication for example, let them know and see if they will be able to do that and are comfortable with it. When it comes to contract and the finer details, ensure that everything is clear and transparent so they are no surprises from both a customer's perspective and the offshore web development company you are going to work with. Things such as communication expectations, deliverables, warranty periods, support SLA's and all the other nitty gritty details need to be fully transparent and written out to minimize any disasters or mishaps. The more clear things are for everyone, the better it will be and the easier it will be to work with them as all expectations are clearly laid out for all the parties involved.
Summary
Working with an offshore Joomla development provider can be a very lucrative experience if you are able to find the right company to partner with. If you choose a company without fully evaluating all the details and are rushing into your decision or even going with the cheapest option, it can really be a recipe for disaster. By choosing to go with the Joomla CMS, you won't be disappointed with the features, functionality and security you get but the real factor that will showcase the results you achieve is the offshore provider you choose to work with. Don't rush into any decisions and make sure you are fully satisfied with your decision and you know that the company you are choosing can deliver what you are looking for in terms of support, delivery times and technical expertise as this can be the difference between success and failure. Ensure that the offshore web provider you are finalizing ticks all the boxes or at least a majority of them to ensure you are maximizing the chances of your project being delivered to the utmost level that you are expecting. If you are looking for a capable, trusted and experience offshore Joomla development company to work with or you need help with any other type of development or digital marketing, please feel free to reach out to the team at Mind Digital for all of your needs.