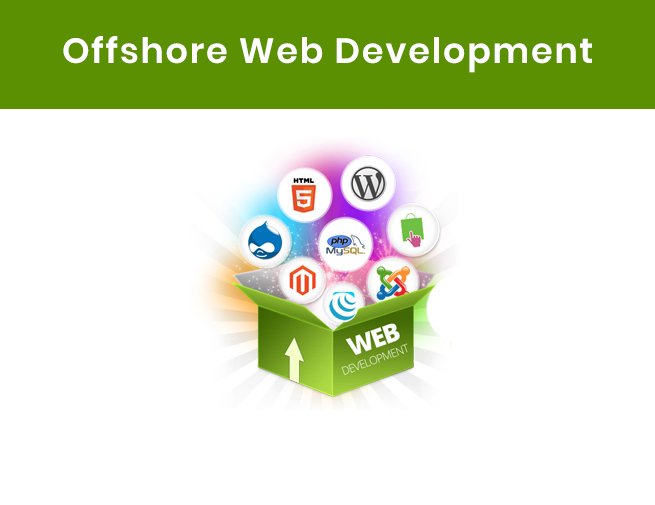 Offshore Web Development – Infinite Advantages For Businesses
The world is changing rapidly and you need to make sure that you are changing with it as well adapt to the changing business landscape. Over the 20 years, with the coming of the World Wide Web, the way businesses function and work has dramatically changed. Businesses are no longer confined to specific geographical areas or languages anymore. With the evolution of the Internet connecting everything across the globe, any business has the ability to truly become global. All one needs is a great website and the world can become your customer no matter which time zone you are in or where you are located.
Getting a good website can be tricky and although it might look easy in some cases, it really isn't. There are many factors that need to be considering when creating a good website such as the design, the performance, the usability and of course the functionality which is critical from a users point of view. If you fall short in any of these departments, you are putting yourself in a tough spot. This is where an offshore web development company comes in handy. With years of experience and a proven track record of delivering, an offshore web development company not only makes sure you get what you want but it also does the same at a fraction of the cost when compared to the US, Europe or Australia for example. Especially when you start a new business or are a small organization, you don't have an unlimited budget to play with. Let's look at some of the benefits of hiring an offshore web development company and why it makes business sense for so many people across the world to seriously consider it:
✓ Competence – Hiring an experienced web development company that knows what they are doing ensures that all your requirements will be well taken care of with minimal headaches. These companies are in the business of web development for a reason and they are day-in day-out eating, living and breathing development. An offshore web development company knows that reputation and delivery is key to a successful future for any company. They know that if they are not up to the mark their own future can go for a toss which means you can always expect the best out of them. Like anything in life, experience matters and by working with an experienced/capable offshore web development provider, you can get just that. Always try to speak to an offshore providers references to give you a sense of their competence and how good they are in delivering what you are looking for.
✓ Economical – Think about this, you don't have to hire a developer, you don't have buy hardware or software, you don't have to deal with HR headaches and you don't need a space for everyone to sit in an office. To top it all off, it costs up to 70% less when you hire an offshore web development company versus a local development professional. It's like giving all your worries to someone else with the confidence that they'll be resolved as they know what clients from across the globe have come to expect. This is probably one of the biggest reasons why so many companies, people and global organizations have looked at, considered or are currently engaging in offshore web development. They are many locations which offer offshore services such as India (the leading destination), Ukraine, Philippines and so on.
✓ State-of-the-art Technology – A trusted and experienced offshore web development provider has all the tools to give your business that edge it needs to succeed in the competitive business marketplace. They use the best of technology, have the best of talents and most importantly they know what it takes to be successful since they are in this business. When you work with a multitude of clients from across the globe, you know what's hot, what's new and what's old ensuring that your customers have the best of the best making it a win-win situation for everyone involved. You need to have the best technology in place so you can offer those services and technology to your clients so that they can stay ahead of their competitors as well as come back to you for more!
✓ Spread Your Wings – Since you don't have to focus on web development, you can channel your energy in different directions such as marketing, customer-care, new business or even operations. Time is money and when you save that time, you can re-invest it into other parts of your business that need it. This really gives you the ability to spread your wings and work on things that need to be attended to for your business making it a win-win when working with an offshore web development provider. Take the hassle out of web development by working with a offshore provider that can save you time, money and allow you to focus on what's important in your business.
✓ More Than Development – Another major advantage of working with an offshore web development company is the fact that you will get more than just web development help and guidance. Any capable offshore web service provider will have other professionals such as SEO, Social Media and PPC digital marketing ninjas who will be able to help you get traffic to your website. Just having a website in this day and age is not enough, you need to have an online marketing plan in place to ensure that you are ranking higher within the search engines and being found when your prospective customers are searching online for the services or products that you offer. In addition, the offshore provider can guide you on best-practices and what to keep in mind when creating or launching a new website.
Summary
If you are able to find an offshore web development service provider that knows what they are doing, it can be a really great business decision for you. Ensure that any company you work with has gone through all the due diligence such as credit checks, reference checks, client references and so on before you embark on this journey together. Take your time and do not make any rash decisions as this can hurt you both financially and waste your valuable time. On the other hand, if you are able to find a good offshore web development company, it can be a really great opportunity for you. You can save time, money, avoid headaches and much more when you work with a capable, trusted and experienced service provider. If you are looking for any offshore web development help, please feel free to reach out to the team at Mind Digital for any of your web development or digital marketing needs that you have.