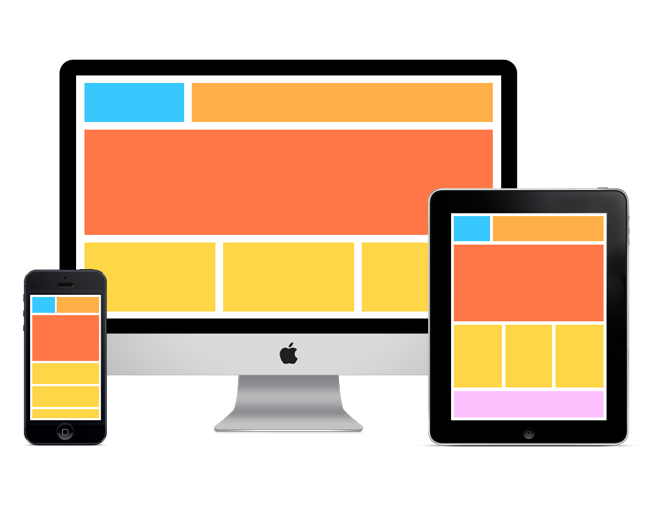 Role Of Responsive Web Design In Success Of Your Business
Websites today are key to success on the web. They are no longer the means to seek information and knowledge alone. Rather, their utility has grown a lot for the reason that they can take businesses to customers. They can help expand the reach and impact of brands and this has made them invaluable in true sense.
To top it all, websites today are being access across range of devices, including smart phones, tablets, and desktops and so on. With more people using devices to stay connected to the web, businesses find in this an opportunity to engage with them and leverage the opportunity in a true sense.
However, businesses have to work with the design of their websites to target the audience and take a right step towards growth. After all, unless your websites runs properly on all devices, it just can't get prospects converted for sure.

What is responsive web design in exact sense?
We are constantly hearing about how having responsive web design is important in today's time. But many of us are not sure what it stands for in true sense. Without understanding the term better, we would not be able to hire a web development company benefit from it in true sense.
Let's look at what is responsive web design –
✓ It's about letting website have a consistent look and feel across devices
✓ The goal is to let customer view websites easily on any device they use
✓ Such website will present the business to customers in a simple way on any device of choice
✓ Fit the site across users' screen even without bringing any changes to the code
✓ Giving the same features and similar experience of the website to users on any device
✓ Benefiting from the ever-growing usages of mobile searching by customers
✓ Catering to mobile and on-the-go audiences to give the business a boost
✓ Informing audiences about products and services through the site

Benefits of responsive web design to your business
We know that responsive web design is very important in today's day and age for businesses to succeed. Not having the design means not being able to reach out to customers and this can impact the growth in true sense.
Here are some of major benefits of responsive web design –
1# Great user experience
User experience matters a lot, particularly in the way a website is viewed. Similarly, users want simple and streamline user interface to decode things easily. They want proper visibility, simple browsing and easy features. The last thing users want is lack of consistency with the view and look-and-feel aspect of the site. So, businesses can benefit from responsive web design and deliver what is needed in the market. After all, unless customers are able to use the website in a hassle-free manner, they won't be able to benefit from it in anyways.
2. Save cost with web development
For a business, customers are everything. So, it has to reach out to them all, at least to maximum in order to grow. With different devices and gadgets are in use, it becomes very difficult and pricey as well to reach to customers. However, responsive web design makes it easy as businesses are not needed to have different websites for different devices. Rather, developers will code the website in a manner that it runs and looks the same across devices. So, a good deal of cost saving will happen along the way.
3. Superior SEO
Websites with responsive web design tend to have superior SEO than the rest. They will help your business reach to more people even without asking for further investment. Search engines find these sites very easy to locate and they give them superior rankings and visibility along the way. Similarly, your team won't have to look after different sites and rather their entire focus will be on a single website. This is how your business will be able to realize its goals of winning more customers in an easy manner.
4. Increase sales and conversion rates
Responsive web design has proven to be very helpful for business in giving a boost their sales and increasing their conversion rates along the way as well. Such a design will be beneficial to drive sales as customers won't face any issues in accessing and locating the site. Just imagine the number of users having different devices and your business being able to reach out to them all with ease. This is how a great boost to sales and conversion is provided and the business starts to grow with ease.
5. Ease of website management
Just think of a situation where you need a professional to manage your website? Now contrast this with a scenario where no one is needed for the task. The difference is obviously in ease and cost saving and this is how responsive web design helps. So, you can make changes to images, layouts, content and videos as and when needed when it's made using responsive design. Any update is simple, you can bring changes in a hassle-free manner and this is how a new dimension to website management is achieved.
6. Hassle-free analysis and tracking of website
You now just have a single website and there is no need to have multiple sites for different devices. So, naturally, you will get ease of monitoring and tracking of the site. You can track customer order, check conversions and get a complete detail of the site within a few seconds. Further, you won't need different reports as a single site is doing all the trick across devices. This is how responsive design can help streamline the business in the way it should be.
7. Seamless and consistent experience to users
The purpose of web development India is to let users have seamless and consistent experience. To reach this goal, you have responsive web design and are able to deliver the best user experience. Similarly, you can also deliver high-quality content and all this helps users with the site experience and your business this grows.