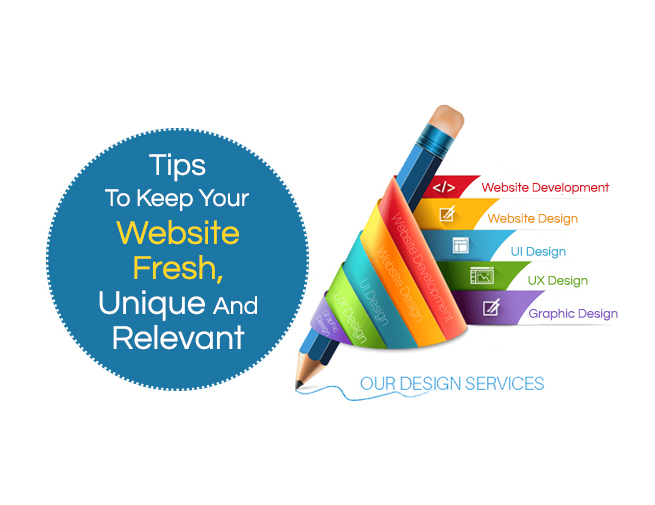 Web Design Best Practices – Tips To Keep Your Website Fresh, Unique And Relevant
By admin October 19, 2016
Take your business online or risk lagging behind the competition! The message is loud and clear, and maybe by now, a vast number of businesses must have understood it in full.
Thus, you need to have a dedicated website so that your business reach the internet and leverage an ever-growing marketplace. This is what your competitors are doing and naturally, you can't cede them an advantage.
Every company, be it big or small, should have a website as this is the only way to enter the throbbing and dynamic online world and take a shot at opportunities.
Not having a website or not being in the online world means –
✓ Your business and its aspects, including products and services etc., fail to reach to a wider audience
✓ Brand awareness advantages are lost
✓ Customer communication prospects are missed
✓ Your business fails to realize its true potential
We can clearly see how not having a website deprives businesses an opportunity to engage and connect with their customers. This is how potential customers are let free to be with one of your competitors, which is surely what you never want!
Why website is key to online success?
Website is the foundation upon which your business' online journey is built. If there is no foundation, can you build something? Going online means getting a vast market to cater and capitalizing on the advancements of the technology in the best possible manner.
To understand how bigger role a website play, you need to look at the statistics below –
✓ More than 40% population of the world now have access to the internet
✓ More than 1 billion people have bought one or another product online, which means some 40% of the total internet users in the world have done buying
✓ In some developed countries, including the UK, close to 90% people now use the internet
✓ The internet is a now a massive influencer of in-store sales and as per a report, its impacts have touched up close to 60%
✓ Google recovers more than 3 billion searches on a daily basis
✓ By 2017, the internet traffic will reach to a level which will be more than the combined total of all previous years
These stats make it obvious that the internet is growing in scale and size at a phenomenal rate and there is no looking back.
A business can benefit only when it's there bang in the middle of all action and activities on the internet. This is where a website helps, and this is where quality website matters.
Web design and your business
A website is the sum total of design and development. While the former is about the visual aspect and layout, the latter is concerned about the technical side of the website. Both overlap each other and make websites ideal for web presence.
Web design includes –
✓ Visual aspects of the website
✓ It's about the customer-facing or "front end" part of the website
✓ How a site looks and how it enables interactions to customers
✓ It's about web usability
✓ Includes the way a site is made user friendly
✓ Giving navigation ease and keeping the site intuitive
In a sense, it's the design part that customers see first and make an impression about the business. Thus, it has to in sync with the spirit and ethos of the business.
Web design best practices and latest trends
Visual aspects are important as they are they first things users notice about a website. Designers should therefore ensure that the design is up to the mark and in sync with the latest web trends.
Here are best practices and trends that web design should incorporate –
#1 Fresh and unique design
A good website is one that create a solid first-up impression on visitors. Nobody would find your site attractive if it's similar to thousand others around. Template sites won't do any magic as they fail to rise above the curve of the sameness. Your need to go beyond the template version and opt for a unique and fresh design. In doing so, you'll need some kind of tweaking as well with the design and layout part.
#2 Make your website useful and informative
Visitors never come to assess the visual merit of your site. Rather, then come to gain some information, understand your business, know your product and familiar with your business. Thus, your web design needs to look good together with adding value to users. The first page of your website then holds the key and you should pepper it with only right kind of content and information. Neither can you leave the home page blank nor overstuff with lots of products, images etc. Follow a minimalist approach and let users find some value.
#3 Deliver superior user experience
You site should not confuse visitors in any sense. Rather, it should deliver then a superior users experience. You should put navigation button right at the top, clearly visible to users. The site should use flat design, simple animations, bigger images and prominent call-to-action buttons. With CTA on homepage, visitors are drawn into the site and this is how conversion rates shoot up. Unless visitors feel good about coming to your site, you can't expect them to take some action to benefit your business.
#4 Showcase products and services in a clear manner
Most visitors come to your site to see products or grasp the services you deal in. Thus, you need to show them in a clear manner what they have come for in the first page. The home page is not the place to list together all products; rather, you can showcase a few of them in a prominent manner. Don't forget adding product photos and descriptions and they should be clean and in a structured way. If you failed to show the products in a right manner, who would then trust you?
#5 Avoid graphical intensity to keep load time faster
If you site loads in 2-3 seconds, then users will stay and if it takes longer, they won't. Clearly, slow load times can harm your prospects in a big time and thus, you should look for ways to keep the load time of the site faster. Not doing the same means conversions will get a hit. You should not go with a graphically intense web design and if you did, you would need then bandwidth to support the design. Your site should not use heavy images, videos etc. as they bring its speed down.
#6 Easy accessibility and organized web design
The website should be designed in a way to never pose any trouble on the accessibility front. There should be a consistency in the layout and design of all pages. Navigation should be clear and visitors should feel tempted in going deep into the site. Similarly, the site should be structured and organized which means it should present information in a right manner without confusing visitors ever. From text to colour to font – everything should be used appropriately to help visitors during their visit to the site.
#7 Make content presentation engaging
Not only the content on the site should be fresh and unique it should also be presented in an engaging manner. After all, you need to deliver good experience to users. So, apart from adding quality into the content, you should focus on its readability and legibility. Having outdated content should be a big no, and the products and services should be laced with right imagery and descriptions. Right from the colours, graphics, illustrations, voice and photos, the content should be clear, larger and easily readable. The content should be easy on the eyes irrespective of the device type used by your audience.
#8 Use a responsive design
Responsive design is not only the latest web design trend but it's also a necessity. Since searches from mobile are growing in scale, websites need to be adaptable to every screen size and device type. And this is where responsive design helps and become indispensable. With such design, your website will give a consistent look and feel across devices, be it desktops or laptops. Response websites are now a ranking factor which means you can use them and boost the visibility and rank of your site in search result pages.
#9 SEO-friendly design
Every website looks to score well in SERPs. This can be done either naturally or with paid attempts. Doing it naturally means you leverage search engine optimization techniques. Quite clearly, your optimization efforts should be in sync with the latest algorithm and changes in the wake of it. The best strategy is to lace website with SEO-friendly features. So, you need to work upon the technical aspect, keep the site's load time good, enrich it with responsive design, make it cross browser compatible and add quality content etc.
In a nutshell, latest web design trends should be followed so that the website becomes friendlier to your target audience. This is only possible when you hire a top web design company and boost your business' prospects on the internet.