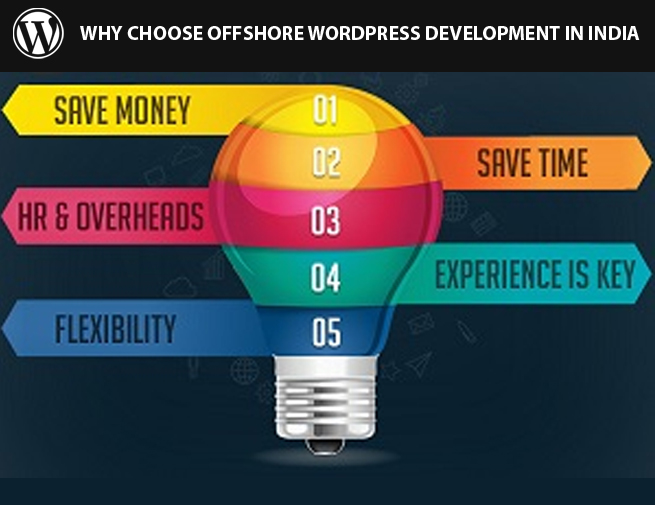 Why Choose Offshore WordPress Development In India
The WordPress CMS (Content Management System) is currently the most widely used CMS platform in the world for blogs and websites today. It is estimated that more than 75 million websites are using the WordPress CMS platform in some capacity. Imagine, that even with little or almost no technical knowledge, you can easily manage and run your website or blog. Back in the olden days, you needed to have some type of development experience or knowledge to run or make changes to your website or blog but that is not the case today which the advent of the WordPress CMS. So, you don't have a huge budget to create a website and are looking for a cost-effective solution to meet your website needs. Choosing to go with offshore WordPress development in India is a great option and the reasons are going to be outlined below along with how you can actually choose a company that makes the most business sense for you. As a business no matter what your size, choosing to go with the WordPress CMS is a great choice as it's secure, reliable, flexible and very dependable. Since it's so widely used by millions of people across the world, it has an umpteen of amount of extensions and capabilities which you can take advantage of by working with an offshore WordPress company in India:
✓  Save Money – A local web development provider in the UK, US or Australia can cost anywhere from 30 dollars an hour to even 100 dollars an hour depending on the experience and the size of the organization you choose to work with. When you work with an offshore WordPress development company in India, you can find WordPress development companies that can cost you anywhere on the low end which will be 10 dollars an hour to on the high end 45 dollars an hour. The pricing that a company will give you truly depends on the amount of experience that this company possesses along with the experience that they actually have. So, by choosing to work with an offshore WordPress development provider in India, you can really save a lot of money which can you use in other parts of your business that need it. As a business, one of the most important things to keep in mind is to save money and cut costs which you can accomplish by working with an offshore web development company in India.
✓ Save Time – If you are located in the US and are looking for an offshore web development company in India, the time difference can be huge. The time difference that exists can be easily used to your advantage as while you sleep, work can be getting done and vice versa. In addition, it takes time to find good WordPress developers to execute the project that you need help on. Lastly, when working with an offshore company on a project basis for example, you can easily scale up your WordPress development needs or tell them you need things done rapidly which can be easily accomplished as long as things are clear. This will allow you to save time in trying to find a team or hire resources. In some cases, you can even pay extra money and get what you want developed which ultimately saves you time once again which you can never get back so save time by working with an offshore WordPress development company in India.
✓ Abundant Technical Expertise – India as a country has more than 1 billion people currently and that number is growing constantly. It is estimated that more than 1 million people enter the IT workforce annually from a varying assortment of educational institutions across India. So, it is very clear that India as a country has an abundant amount of technical power as well as technical expertise to meet any of the offshore WordPress development needs that you may have. It doesn't matter how big or small your project is, India has the amount of technical expertise that you need which can be clearly seen from the sheer IT workforce that it has which is growing constantly. Lastly, when you are evaluating and choosing an offshore web development provider to work with, ensure that you are speaking with the technical staff that will be working on your project to get a good sense of the technical capabilities of this person or group of people that will be engaging with you.
✓ Experience Is Key – When it comes to software development of any kind, experience is absolutely essential. Since India as a country is an offshoring nation, you can come to expect that people and businesses of all sizes rely on it for offshore web development. India as a country is therefore relied on from countries across the world giving it more experience since they have worked on so many projects in the past. Offshore WordPress development in India makes perfect sense as any good company will have the necessary expertise and experience to deliver what you are looking for within WordPress or even any other CMS platform. When choosing a WordPress development company to work with, ensure you look carefully and critically through the portfolio of work to get a good sense of what they have done in the past. Experience is absolutely essential as it limits the learning curve and allows you to take advantage of the experience that the company has had in the past. So, when choosing an offshore web development company to work with, take your time to choose a partner which has the right amount of experience which most good WordPress development companies in India have since they will be working on a large amount of projects over the years. The more experience a company has, the better it is for all people involved so choose an experienced WordPress company to work with. You can do that by looking thorough the past work or current WordPress projects they have delivered as well as try to speak to current or past clients to get a good sense of what this company is offering/overall working style is during the selection process.
✓ HR & Overheads – This area is by far one of the most overlooked areas when it comes to the benefits of offshore WordPress development in India. For example, let's say you want to hire developers internally or on staff, now what? First, you have to try and find these people across multiple job portals or even pay recruitment fees to try and hire a good WordPress development professional. In addition, once you find someone, you need to hire them and give them the resources or the tools they need to deliver what you are looking for. You need to make sure you are giving all the software and hardware they require for your WordPress development project which all costs money. Many factors such as HR costs, software, overhead and hardware costs are often overlooked or not thought of when it comes to the reason why you should not do development in-house. However, if you start adding up the time and money that comes into play when it comes to these things, you will quickly see that it adds up faster than you ever imagined. Lastly, the headaches that come along with trying to run an in-house team compared to keeping it externally is another factor why working with an offshore WordPress development company in India makes perfect business sense.
✓ Flexibility – By not having your development in-house you have many advantages but more particularly you have a lot of flexibility with no strings attached. If you need to have a large team of WordPress developers for let's say two months or even less or more, working with an offshore WordPress development company in India allows you to have the flexibility that you need. You can easily scale up or down your web development needs. You don't need to worry about hiring or firing or anything of that sort when it comes to working with an offshore web development provider. All you need to do is hire the amount of professionals you need on a part time, full time or even a project basis which truly gives you the ultimate flexibility as a business. Flexibility and freedom are really essential when it comes to running a successful business and the same goes for this matter as you don't have to be bogged down with the minor details which can be expensive, time-consuming and cumbersome.
Summary
India as a country is well respected across the world for the fields of IT, medical and engineering. As a country, India is very familiar with the offshore business model and it is very lucrative from multiple aspects to be engaging with them on a multitude of offshore projects. If you are thinking about offshore WordPress development in India, rest assured knowing that this is one of the leading destinations in the world that can deliver what you need. Small companies, enterprise organizations and even individuals rely on what India has to offer so be at ease knowing that. If you can really find a good offshore WordPress development company in India to work with that ticks all the boxes, it can be a great business decision. The key is to find a good offshore partner that has the perfect mix of experience, expertise and price competitiveness which takes due diligence and time. If you are looking for an experienced, trusted and reliable offshore WordPress development company in India to work with, please feel free to reach out to the team at Mind Digital for any of your offshore development or digital marketing needs.