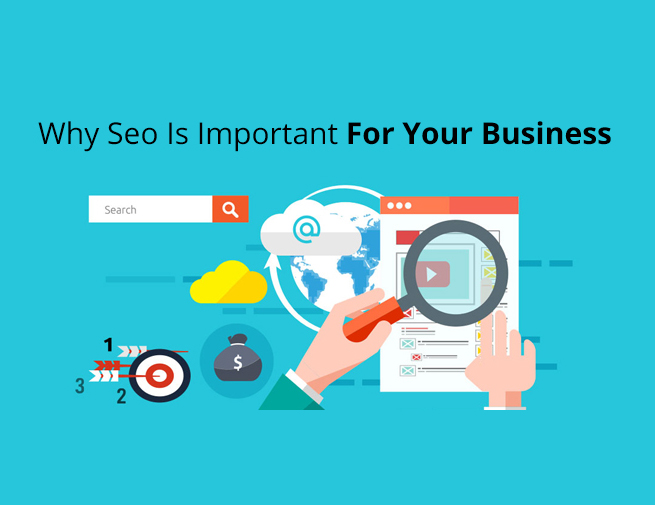 Why Seo Is Important For Your Business?
By admin November 11, 2016
Did you know that over 40% population of the world is now connected to the internet?
You should also know that Google gets over 100 billion searches a month, reports Mashable.
What more, search is the #1 driver of traffic to content sites.
Similarly, 6 out of every 10 B2B marketers say SEO has the biggest impact on lead generation….
Where all this indicates or leads to? This shows how the internet is growing in usages. This piece of data is of great help to business since their prospects too are rising along the way. With more users being added to the web, businesses stand to leverage this ever-rising pool of prospects and realize their objectives with ease.
Take the business online
So, taking the business online is important these days. Not doing the same means not being able to benefit from a wider and ever-growing marketplace. After all, the internet is growing at a spectacular rate with individuals and entities both going there to extract some mileage.
So, what would a business do if it wanted to go online? First of all, it needs a website. Would that suffice? Having a website is the first requirement in order to taking the business in the digital world. After all, the race to catch the attention of users starts with a website!
Online prospects and SEO
So, you have a feature-rich and professional website running over the internet? But your business is not getting the result it intended? What is the way out then? Is this the time to hire an SEO company India? Yes, because SEO helps in such cases.
Search engine optimization (SEO) is basically a technique to boost the visibility of your website in search engines. This is how your business and its products or services or any other aspects are seen more by visitors.
SEO helps at many levels, including –
✓ Brands or businesses can cater a wider and bigger market
✓ Demographic-based targeting of customers is now a reality
✓ Enhanced visibility in SERPs for every aspect of the business
✓ Boundary-neutral growth and expansion for businesses across industry verticals
Reasons to trust SEO for your business
Over the years, optimization efforts have grown a lot in prominence with more businesses choosing to trust them to realize their true potential over the internet. It's true that businesses have many reasons to trust SEO and leverage a wonderful technique of online marketing.
Here are some of popular reasons for brands to trust SEO –
# Visibility
Every business wants customers to find their products and services as easily and quickly as possible over the internet. This is only possible when the content on the site or other places get indexed by search engines. SEO helps in keeping your content in front of search engines in a manner to boost their possibility of indexing. This is how your business' visibility gets a massive boost in the digital world.
# Branding
The more your business and its aspects are visible to users on the internet, the more trust they will gain from customers. With optimization efforts, you can make your business become more visible across channels on the internet. This is how brand awareness or brand visibility gets a massive boost. All this at a fraction of the costs that traditional modes of marketing often entails.
# Credibility
SEO helps your products and services gain top ranking in search results. Thus, your business and its essences are frequently visible to whosoever make search. This leads to a sense of credibility among your target audience. By appearing at top rankings, you stand to get credibility and this is how businesses grow and expand without investing massively.
# Traffic
An increase in traffic is perhaps one of the biggest benefits of SEO. After all, now your website has higher rankings and more people find it in the digital channels or in search engines. Since your products and services are all over the place, your website end up getting a good traffic. The number of visits to your website gets a massive jump and from the pool of visitors emerge prospects.
# Exposure
Without SEO, it would take a lot of money and time to get the kind of exposure your business needs to make a mark in the online world today. Your business and essences can now reach wider market and territories which means there horizon will get widen. Rather than spending a lot of money, you can boost the presence of the business with optimization efforts. You can cater any market or decide to target any audience and all this has gone easy due to SEO.
# Cost-effective way of marketing
SEO is something suitable to both small and big businesses alike. It's perhaps the most cost-effective marketing technique to take the business forward on the web. Its cost effectiveness makes it a vital clog in your marketing mix. Which means, you can run paid campaigns at one end and also look to get organic traffic through optimization efforts. This is how your business realizes it goals in a timely and desired manner.
# Sales
More the traffic better the sales! Your sales can get a boost only when your business gets some interest from customers or users over the internet. By leveraging SEO, you can get more traffic, convert visitors into prospects and then give the sales a boost. Which means, your marketing efforts are sure to give a big fillip to your business.
# Superior ROI
With SEO, you are assured of getting a higher ROI than other advertising or marketing efforts. This happens due to the inbound marketing strategy where you have an opportunity to target only a specific market at a given point of time. Which means, you can reach out to only those customers you know can have potential for the business. You needn't spend a lot or waste the money over a target audience entirely unrelated to the business.
# Demographics-based targeting
SEO gives your business a chance to indulge in demographics-based targeting. Which means, you can employ your marketing efforts based on knowing some of vital traits of customers. So, be it age, sex, territory, preference, geography etc., you can choose the metrics and then employ your optimization efforts. This kind of targeting boosts the chances of success and this is why search engine optimization continues to endear to brands small and big alike.
# Insight into the customers
SEO is a great way to get an insight into the customers and they base the subsequent marketing efforts. You can now analyse the kind of traffic received, can decode the searching methods of customers, can understand browsing patters of your audience, get a peek into the location and collect a lot of useful data regarding buying behaviours. All these information help a great deal when businesses resort to re-targeting.
# Measurable results
One of the best aspects about SEO is that, it delivers measurable results against majority of metrics used for marketing purposes. So, with your optimization efforts, you'd be aware of the budget, success or failure, clicks, conversions, or other things worth knowing. With measurable results to trust, businesses can understand where they are heading wrong or right without wasting money.
In overall, SEO is perhaps one of the most vital aspects of your internet marketing and it should get due weightage at you. So, trust digital marketing experts and see your business grow in the online world.