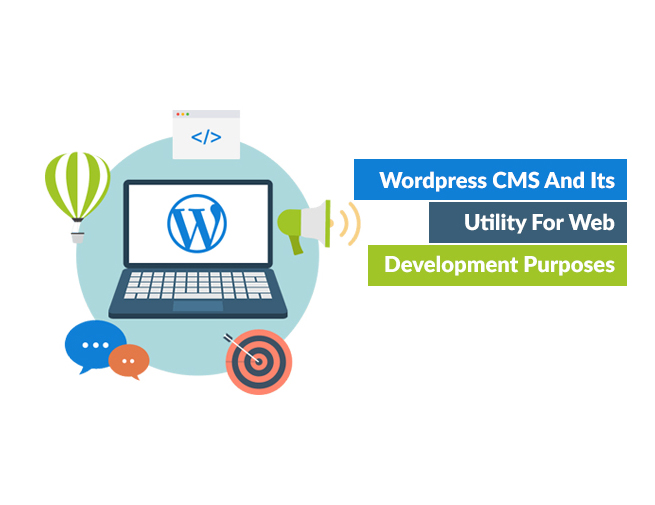 WordPress CMS And Its Utility For Web Development Purposes
By admin December 16, 2016
At present, WordPress captures a whopping 65% share of the CMS market worldwide…
It's responsible for 25% of all websites in the world, which roughly comes out to be 1 in every four websites developed…..
Similarly, it's powering close to some 80 million blogs across the globe…
The stats are clearly staggering and give a peek into the extent of usages and popularity this CMS enjoys. You should also know that over 130 million free themes were downloaded of this powerful open source content management system in just 2015.
Essentially, there are reasons galore that point how and why WordPress is perhaps the most popular CMS in the world. Into a journey of over a decade or so, it has carved out a niche and it continues to dominate the domain.
Mind you, it came into being in 2003 as a simple blogging platform and since then, has gradually metamorphosed into a full-fledged software for content management purposes.

Why WordPress is so much popular?
We know WordPress is presently the most popular content management system in the world. It has reached to the top on the back of many things, including –
✓ It comes packed with lots of powerful content management features
✓ It's easy to use, makes development cost-effective and brings SEO results
✓ It's updated regularly and provides top-class security to sites
✓ It's trusted for its latest features and constant improvement

Reasons of ever-growing usages WordPress
There are many content management systems in the market these days but why CMS enjoys the largest share is something you should try to know. Once you know the reason why it makes sense to hire a top WordPress development company, you'll understand the cause behind its ever-growing popularity among designers and developers alike for web development purposes.
Here are some of top reasons of WordPress' popularity and usages –

✓ Open source
Most CMSs in the market are basically open source software and WordPress is no exception. Thus, it comes with ease to get edited and redistributed. Its original source codes are available for one and all to use and thus further helps users. Its open sour nature makes web development tasks cost effective in nature.

✓ Free
It's a completely free CMS and also offers unlimited validity. You can get it started after downloading it from the official website. You needn't buy expensive software to get things going for web development purposes.

✓ Multi-purpose website
WordPress is a versatile and flexible platform. It gives the freedom to create any type of website and realize your goals with ease. Be it a commerce website, membership site, video website, directory site or social sites etc., it helps you get developed the kind of website you need for the business.

✓ SEO friendly
WordPress is a CMS that is SEO friendly in nature, and even Google has confirmed this. It's a platform that comes good on virtually all criteria search engines set for ranking and visibility purposes. What's more, it packs in several SEO plugins that further help websites or web-based products get superior results in SERPs.

✓ Superior user experience
A good CMS is one that helps deliver superior user experience. Being fully optimized, it works consistently well on different devices, systems and browsers. Which means, WP-powered websites give consistency in its look and feel irrespective of the mode and medium they are used or seen.

✓ Robust navigation
Navigation is key to success for blogs and websites on the internet. If users are not able to find navigation options with ease, it might impact the overall performance of the site for sure. WordPress makes navigation robust with menus, tags, categories and drop-down functionality. Lots of widgets do help as well in the cause of navigation.

✓ Image Optimization
Images should be optimized so that they get superior visibility in search engines. Unless they are so, your site's ranking and visibility won't improve. With WordPress, it's simple to add Title & Alt Tags in images. You this needn't worry about optimizing the image and then serving the purpose.

✓ Superior coding standard and loading speed
CMS keeps coming with new versions in every few months. This is perhaps the reason behind superior coding standard it maintains whose benefits websites get. This is one of reasons why WP-driven sites load faster than the rest.

✓ Social Media Integration
We know social media is very important these days. They are now one of ranking factors as traffic from there to sites are now more weightage by search engines than ever earlier. This is perhaps the reason why this CMS supports social media integration.

✓ Easy to Use
Ease of use makes WordPress a top CMS in the domain. All you need is a one click installation to get going. You needn't any coding to create and publish blogs and pages. Similarly, a code-less custom configurations is a possibility which you can do immediately after installing it. With all features in-built, including blog publishing and user management, it can't get easier than that to use.

✓ Customization ease
Coding is not needed to customize this powerful platform. Developers know this and leverage it full. Be it colours, design or features of a theme, you can customize virtually every aspect to meet your needs perfectly. Whether it's panel-based or code-driven customization, a sense of ease is guaranteed.

✓ Support of a large community
Like all popular open source technologies and CMSs, WordPress too is backed up by a large community of active users and developers. This way, troubleshooting problems remains easy and speedy at the same time. Anyone can post question in the forum and get valid solution in fairly quick times.

✓ A super secure platform
It's the super secure nature of WordPress CMS that makes it popular among users and developers alike. Its security are reasons why hackers find it almost impossible to breach through its defences and get into the site. With regular updates provided from time to time, sites become extremely safe to use.

✓ Multimedia support
Blogs with images, videos and audio tend to do better. So, it always makes sense to choose a CMS that supports multimedia files and helps you in many ways. WordPress does that and lets you add any media files in the content with just a single click. Uploading and editing files to blogs and content remains tad easy for users or developers alike.

✓ Free plugins to extend functionality
It has hundreds of plugins that can be used to extend the functionality of the website or blog. A majority of plugins are free while some of them are paid, and you can use them easily to boost the performance of the site. So, whether it's adding a contact form or something related to email marketing, there are plugins for every purpose you need to do.

✓ Improvement in features
Features of WordPress are improving gradually and you might have experienced it. Further, there is a marked betterment in its user friendly interface and you should see that to believe. It keeps updating latest versions to enhance the system further. From being a blogging platform to now a full-fledge website development platform, it has surely come a long way.
In overall, WordPress development services are very helpful for the prospects of your website and you should benefit from them for sure. This is how business' goals are realized with ease and efficiency.