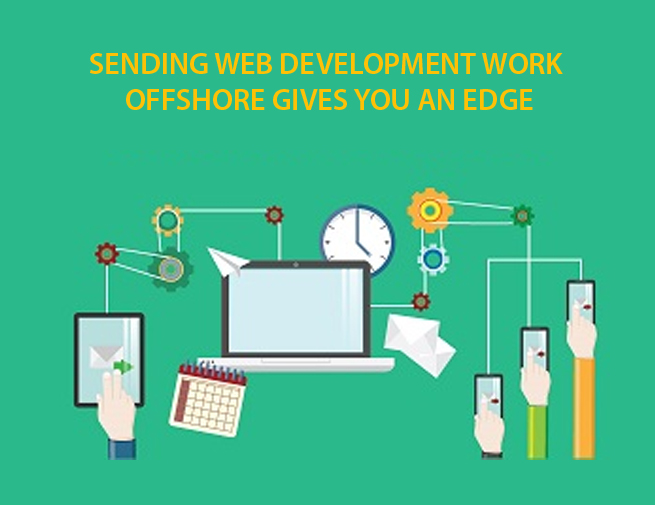 Sending Web Development Work Offshore Gives You An Edge
The outsourcing and offshore business model has been around for more than a decade now. From multi-billion dollar companies such as HP, IBM and HCL to small one-man businesses, everyone has the ability now to access talent at an affordable price in offshore countries such as India, the Philippines and so on. Before, only large organizations that had an office or an actual physical presence in that offshore country could capitalize upon the benefits that offshore web development provided. Today however, anyone that has an Internet connection can easily hire or work with an offshore web development provider no matter where they are physically located.
With communication easier than ever before with tools such as Skype, GoToMeeting, TeamViewer, Gtalk along with many more, distance is no longer a factor or deciding business factor. In addition, project management tools such as Trello, BaseCamp or Freedcamp being easily/widely available, you can manage a team or project easier than ever thought possible with as many people as possible. By sending work and working with an offshore web development company, you can have an edge in your business for many reasons which we will go through below:
✓ Focus – Web development or any type of software development for that matter in-house is a time-taking endeavor. From finding the right talent to hiring the best people as well as providing the necessary infrastructure, it is by no means an easy task that can be done in your spare time. When you work with an offshore web development provider, you have the ability to give them all the responsibilities for your web development work which allows you to focus on other parts of your business that need it. A capable offshore company will know what is required as they are in this business day and night saving you from going through a learning curve which can be expensive in some cases. Granted, you still have to manage and communicate with them to get the best results, it is still much less of a hassle compared to if you had to hire, manage and operate a web development team in-house. Focus on other aspects of your business and give yourself an edge as time is money.
✓ Cost – One of the biggest or probably the main reason why people look at offshore web development is the cost-savings that can be had. For example, a Magento developer in the UK, US or Australia can cost you anywhere from $3,500 to $10,000 a month depending on the type of experience that he or she has. Compare that to hiring a full-time offshore web development professional in India, you can pay anywhere from $1,000 to $4,000 a month depending on the experience that he or she has. The cost-savings that can be had are pretty much self-explanatory. In addition, if you don't have enough work to keep your in-house developer busy full time for example, this is also wasting precious money compared to hiring an offshore web development company on a project or part-time basis for example. The money that you save by working with a good offshore company can be re-invested into other parts of your business that need it such as marketing, operations or even that vacation you have been wanting to take with your family. Hire who you want, when you want and for as long as you want by working with an offshore service provider.
✓ Support & Delivery – As a business, you can really gain a lot by working with a capable and experienced offshore web development company. For example, if you hire a company that can give you support 24 hours a day, it can save you a lot of headaches compared to if you try to build that same type of team in-house. The support that you can get from an offshore service provider can be customized around the needs of your business. Lastly, if you have a tight delivery deadline that needs to be met for example, you can beef up the amount of people that are working on your web development project to speed up the development process. You can scale up or down your development needs based around what you require without worrying about hiring, firing or other operational expenses which are incurred if you hire someone internally. Let your business take advantage of the flexible and customizable options that can be had by working with an offshore web provider.
Summary
It's no surprise that the offshore web development business model is being used by people and companies of all sizes across the globe today. With distance no longer being a factor in business, you can really tap into the brilliant resources that are available at many offshore web development companies across the globe. The company that you hire to help you with your web development project should go through the necessary due diligence such as reference checks, portfolio checks and so on to minimize any surprises for both parties. Take the necessary time and ensure that you are fully satisfied with the offshore web development provider you choose to work with. When you are able to find a reliable and trusted partner who can deliver what you need, great things can happen which can really benefit your business. Working with an offshore web provider will really allow you to gain an edge and do what you do best rather than trying to figure it out on your own or build something in-house. If you are looking for a capable, trusted and experienced offshore web development company who can get things done for you at a great price, please feel free to reach out to the team at Mind Digital Group for any of your development needs.