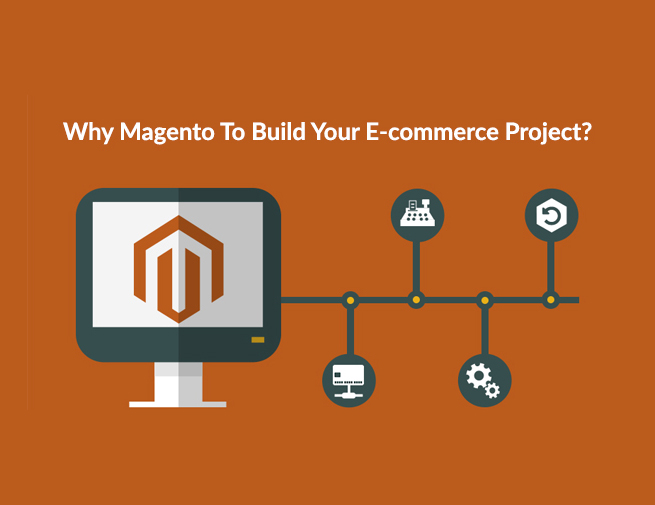 Why Magento To Build Your E-commerce Project?
By admin December 26, 2016
Have you ever visited the website of Nike, a domain leader in sports apparel? Or, have you ever been on the Samsung website? Is there any connection between both the websites? Yes, there is a connection, as both these are built on the Magento platform.
Quite clearly, you can see how two of domain leaders have put their trust on this platform to get their website developed. In fact, over 25% of all e-commerce sites in the world trust this platform. Which means, 1 out of every 4 sites for e-commerce purposes is powered by this Magento platform.

Why Magento for your e-commerce website?
Over the years, Magento has perhaps become the most trusted platform for brands small and big alike. It's an open source PHP-based e-commerce platform and offers functionalities that help support commerce stores with ease. Apart from having a range of robust features, it's a kind of platform that brings a great deal of flexibility to e-commerce store owners.
Here are some of reasons why Magento enjoys so much trust in the market –
✓ Simplicity of use
✓ East to use features
✓ Made specifically to cater e-commerce business
✓ All key features selling of products or services
✓ Ease and security with payment, shipping management and product bundling
✓ Automatic updates to websites
✓ Simple, quick and versatile functions
✓ Support to more than one store or website at a time
✓ Able to help create scalable websites

Magento is tailor-made for e-commerce
The best thing about Magento is that, it's tailor-made for e-commerce. It's not just another CMS and offers a few plugins for commerce purposes. Rather, it came into existence as a platform meant for helping businesses with their commerce on the internet. Thus, you can get a dedicated Magento developer and develop your store with ease.
Which means –
✓ Its core features help build e-commerce sites really easily
✓ It comes packed with User Dashboards and Customer Segmentation feature
✓ The feature of Inventory Management is available
✓ Advanced shipping and supplier management are available
✓ Bundling of products is allowed
✓ It comes packed with abilities of built-in cross sell and upsell
✓ CMS option is available
✓ Newsletters can be sent

Reasons why Magento is the best platform for c-commerce purposes
If the industry trust Magento so much for web commerce endeavours, then there must be something that gives this platform an edge over others. You should thus look to know understand what makes this platform the best in the domain.
Here are some of top reasons why Magento is the best platform for e-commerce purposes –
#It's open source
It's an open source platform which means it's free to use. Similarly, it comes with 3 versions where one is free while two are paid and of premium variety. It also has an enterprise version and above all, it's free to download and install.
#You can install extensions easily
Users can easily tweak the source code of Magento to match their website type. It's easy to install extensions that are easily available through the built-in marketplace. So, it does not take long to get going and thus, you start operating over the web.
#It gets updated on a regular basis
When it comes to security, you can be rest assured about Magento as it's a kind of platform which gets upgraded regularly. This way, security flaws are found and patched to make it a totally safe platform to work upon. The troubleshooting is free and you can even go with an enterprise edition to boost the level of security.
#Freedom to select the hosting service of choice
With Magento, you can select the hosting service you want. So, there is always a freedom to switch your hosting services in case some problems do come with the existing one. This is how your costs are kept down.
# Add features without paying anything extra
Many e-commerce platforms do charge for whatever little features you add to the site. The same however is not the case with Magento as it is open source and gives the freedom to adding as many features you like to see in the site.
#Add products without paying anything extra
Similarly, adding products, product lines and SKUs won't cost you anything with this platform. The same however is not the case with other platforms that often don't support to growth and expansion in the same manner.
#Easy to integrate third party apps
Magento gives the freedom of plugging in ready-made apps to get new features into the site. You need to rely on coding to get new feature. Further, third party apps can be integrated with ease without even relying on the service provider. With an extensible API, you are always free to get the app you want and plug it in to the site.
#Modular and customizable
You want your e-commerce platform to be highly customizable and modular which is what Magento is. It's open source and comes with a modular technology so that anyone can modify or plug in templates and layouts of choice to develop front-end of desired variety. You can even redesign backend workflows in the same manner.
#Speed and built-in SEO aspects
Magento is a kind of platform that not only loads fast but also allows quick caching of pages. This is how it delivers a great speed and buyers feel the difference when their visit sites and browse it. Similarly, it's a platform that comes with built-in SEO elements so that you need not put in efforts to optimize each and every page.
#Mobile-ready from the start
Not having mobile friendly website means losing out a lot of prospects for your business. You can tap into the HTML5 capabilities of Magento to get mobile friendly website developed with ease. This is how your website stands to benefit from desktops in the same way as it from mobile.
#One backend, more websites
Now you can run multiple stores or websites using the same common backend system. The best part, you can give different design and layouts to every website and boost the capabilities of the business.
Trust Magento development India and realize the true potential of your online store.