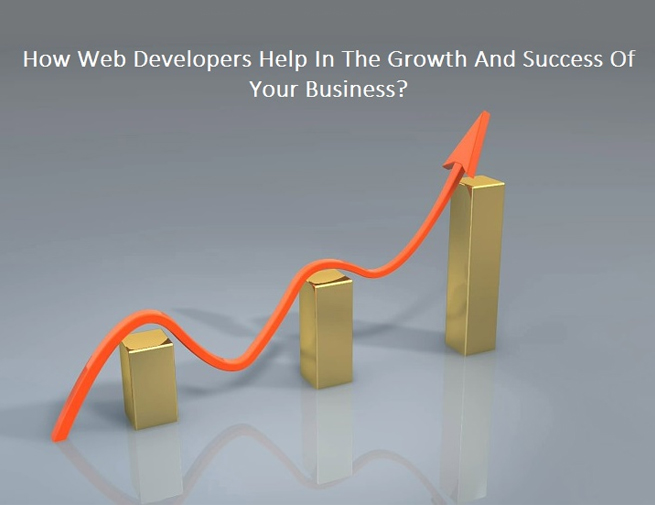 How Web Developers Help In The Growth And Success Of Your Business?
So, are you planning to take your business online? The first step is obviously to get a website created. Only then you reach to a vast and ever-growing marketplace where prospects multiply at a phenomenal rate. The internet is where your business can find loads of opportunities and cash upon them to fulfil its goals. This is however easier said than done, particularly when you don't have a good and quality website.
You must have a business website rich in features and that combines aesthetics and technicality in a right combination. It should also have an easy and simple design, enable hassle-free navigations to users and its pages should load faster. What's more, your business website should help you list products or services in categories to help buyers with their purchase. Above all, the site should be optimized so that it's visible to more people on the internet.
Clearly, you can see how just having a website won't suffice when your business aims big in the digital world. You need a high-quality product which is not possible unless you leveraged the experience and expertise of a reliable and well-known web development company. After all, only experts know what it takes to make your business' online presence enriching and rewarding.

Why web development?
Web development is important no matter in which industry your business operates in or what projects it decides to run. It's important because your business will need high-quality, feature-rich and technically superior website and app to score well on the internet. Without web development, your business just can't make inroad into the ever-rising prospects that the digital world throws at you.
Here are reasons that make web development an absolute necessity –
✓ It's the foundation upon which your business' web presence will be based
✓ It involves coding, programming and processing of the website data
✓ All the technical works involved in development of a website are leveraged
✓ It helps your benefit from either static or dynamic website, e-commerce portals, apps, customized solutions etc.
✓ All the non-designing part of a website will come under the development category
✓ Coding and mark-up writing is done to help you get websites or web-powered apps to support your business
✓ Without web development, it's not possible to have web presence, let alone catching the attention of the target audience
✓ You get to develop websites according to the business requirements which helps in realizing goals

Role of web developers
When you need a top-quality website, you turn to an agency or expert and get it developed in quick time. These experts are basically web developers who're aware of all web technologies and trends needed to make quality products. They understand what solutions, what technologies and what trends to leverage to help clients get a feature-rich website.
Web developers are invaluable for many reasons, including –
✓ They know how to create easy-to-read websites or apps so that users don't have problem in reading its content
✓ They know how to boost the readability quotient of the site by using right colour, images, font, formatting and style
✓ Your site's navigation is made easy by them to help users find and search things easily
✓ They make the link easily visible together with creating a responsive website
✓ Web developers understand the utility of placing menu and icon at top so that they can be visible
✓ Your website is made to look good on all resolution whether users view it on laptop or smartphone
✓ They help keep your website responsive, informative, and easy to load and easily viewed
✓ Better user experience is something that web developers help your site to achieve by lacing it with quick download speed
✓ They enhance the serving speed of your website, work upon images and tackle CSS and script likewise
✓ Top developers keep websites from of any dead link and ensure 301 status to a redirect
✓ They enrich the site with a contact form so that visitors can contact the business easily
✓ The site is made browser compatible so that it can be easily viewed from any screen size or OS
✓ They do web development keeping in mind the search engine friendliness so that visitors can find things easily
✓ Top developers understand the merit of having a search form in the site so that searching and finding things remains simple
✓ They lace the site with an XML sitemap for helping its SEO prospects together with making it easy to find by visitors
✓ Expert developers understand the benefits associated with inserting SEO-friendly URLs

Mistakes that web developers make
We know how much important role web developers players in helping our business achieve its goals. All of them however are not equally good or proficient which sometimes creates problems of plenty. Some of developers are prone to making mistakes that might impact the prospects owning to the back quality of web development India. So, it's important to understand those mistakes and stop your business from faltering in the digital world.
Here are some of mistakes web developers might do –
✓ They someone do incomplete input validation which leads to a variety of problems
✓ Some of them go ahead with authentication even without appropriate authorization which leads to variety of mistakes
✓ Sometimes apps are developed without the scaling ability which costs your business in the long run
✓ It's possible that web developers might create web apps with wrong or missing SEO which jeopardize your internet marketing prospects in a great deal
✓ Not all of them understand or know how to optimize the bandwidth usages in a complete manner
✓ You must check whether the site has been developed with responsive web design features as some developers forget doing that
✓ Not developing apps or websites keeping in different screen sizes is one of mistakes that developers often do
✓ Not all of them give due care to cross browser compatibility which often hurts the cause of businesses in one way or other
✓ They sometime create web apps that lack portability
✓ Not developing according to a set and pre-arranged planning is also a mistake many developers do regularly