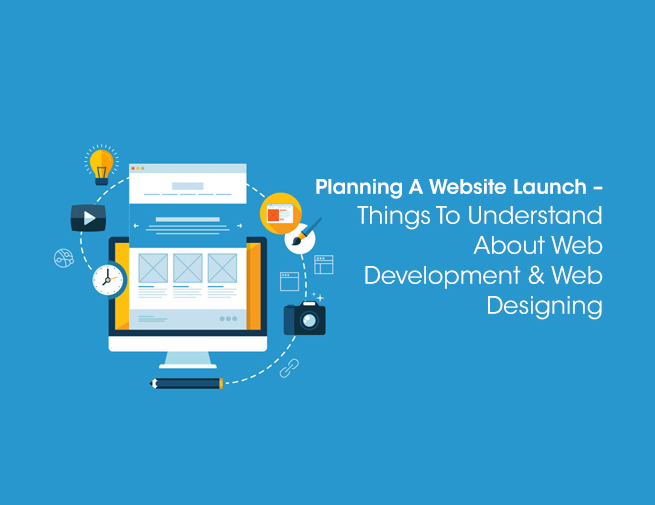 Planning A Website Launch – Things To Understand About Web Development & Web Designing
By admin October 29, 2016
Did you know that the number of people having access to the internet is now nearing 4 billion mark worldwide?
You should also know that the percentage of people using internet in developed country has reached to a massive 82% level while it stands at 35% for developing nation.
Similarly, mobile broadband subscriptions for developed country are now at 86.7% while 39.1% for developing countries.
What all this points to? Well, it shows that over 40% population of the world now have access to the internet. This must excite you, mustn't it?
So, if you run a business, then these figures or stats are sure to make you pleased no end. After all, with such amazing level of internet penetration, your business has a chance to grow and realize its potential in quick time. This is where websites come into equation.
Why a website?
So, you are planning a website launch. You want a website designed and developed to take your business online. You know prospects multiply at a phenomenal rate on the internet and you want to benefit from that.
You also know that without a website, you won't be able to be in the digital world, let alone having any foothold there. So, it all starts with a site which takes you to a wider market and lets your business capitalize upon that.
You know a quality website will help you in many ways, including –
✓ Your business gets a solid presence on the internet
✓ Users can find your products and services easily
✓ Distance and geography won't matter
✓ Your business can serve any market worldwide
✓ A 24 x 7 operations becomes a reality
✓ Brand awareness gets a boost
Quite clearly, having a website opens up the world of opportunities for your business and creates chances of growth and expansion. Given so much benefits attached, you should then not delay getting a website developed for the business.
However, you should not rush into hiring any company for your website. Rather, you should first understand the aspects into website development and design so that things are clear to you beforehand.
Website development vs website designing
If you're looking to get a website developed and designed, you should then understand how development is different from designing. You should know how web design India is different from development and how both help your business. You should also know that –
✓ Design and development are two different faces
✓ They are not the same even if many people use them interchangeably
✓ Both involve entirely different skillsets and technologies
✓ While design is about the visual aspect of the site, the development relates to the technical facet
✓ The design part is about how a site looks and how it helps in interaction with customers
✓ Front-end or customer-facing front is the core area of focus in designing
✓ The design is also about the web usability of the site and its user friendliness
✓ Front and back-end are two aspects of the web development
✓ In the front-end development, visual design of the site is built into code
✓ In the front-end development, technologies like HTML (for site structuring), CSS (for visual layout & styles) and Javascript are used
✓ Back-end development is needed for complex projects
✓ Advanced programming and interactions on the pages are involved in the back-end development
✓ This kind of development focus on how the site works and how customers do tasks with the help of functionality
Development and designing – benefits to your business
We can clearly see how development and designing are two entirely yet connected elements in your website. They help make your website a reality. They bring benefits to your business in many ways, including –
✓ Your business goes online and joins the ever-growing pool of users and entities there
✓ You get a tool to catch the attention of users
✓ The visual aspect of the site will strike at the senses and turn visitors into prospects
✓ The technical aspects will let visitors find ease in accessing or using the website in the desired manner
✓ If the site is developed and designed properly, users will serve their purpose with ease, no matter whether it's navigation, browsing or purchasing
✓ Your business and its elements will reach to more people on the internet
✓ Your presence will be global in true sense
Development and designing – features they bring to your website
We know it takes high-quality designing and development to get a good business website. We also know that without having a good website, your business won't be able to realize its true potential on the internet. That's where features of the website make all the difference.
Let's look at some of top features of a website –
1# Easy to read
Any website is there for visitors. Yours is not different. If the website is not helping visitors read the content and get information, then it's useless to anyone. So, the content on the site should be easy to read. From colour to visual appeal to heading – no part of the content should create any problem to readers or visitors.
2# Hassle-free navigation
Visitors come to your site to access it in a hassle-free manner. So, if the navigation is not up to the market, users can switch to other sites and serve their purpose. Simple or easy navigation is possible only when on the links are clearly visible so do icon menus. Only then can visitors feel good about the navigation.
3# Responsive in nature
Only responsive websites can deliver a consistent look and feel across devices and screen types. If yours is not, it can't never expect to win mobile or tablet users. Non-responsive sites — no matter how much information they have — fail to serve visitors in a positive manner, particularly those using mobile devices. So, get responsive website design and grow your business.
4# Quick to load content
A good website is one that loads content in a speedy manner. And when loading is speedy, it ensures better user experience resulting in more visitors. On the other hand, sites that don't load quickly face the risk of losing its visitors. It all depends on the kind of development and usages of images, script and CSS to enrich the site with quick downloading.
5# Zero dead links
Visitors avoid going to the site that have dead links. This situation dilutes user experience in a big way. That's why your site must be aware about such links as their presence is equal to losing prospects. You must ensure that and redirect gets a 301 status and this at least serves some purpose.
6# Relevant content
The site should have only relevant content else its prospects must be in jeopardy. You can't expect to run the site with content that is not fresh and that serves no purpose at all. The best strategy is to get the site's content updated on a regular basis so that users can benefit. This applies to content of all types, be it images, text, videos, infographics etc.
7# Contact form
Many websites don't bother about visitors beyond a point. They don't have contact form whose absence means visitors can never contact the business. Not having such a form impacts businesses on two levels – first, visitors fail to reach them and secondly, they fail to get information which visitors would have shared. This is how leads are lost.
8# Multi-browser compatibility
It's obvious that visitors to your site use different browsers. So, if your site is not compatible with any popular browser around, it can then severely impact your prospects. Your site not only must look good on all browsers but deliver ease with them all. This can only be possible when it's developed in a way to be multi-browser compatible.
9# SEO-friendly in nature
The purpose of a website is to make it more visible on the internet. More visibility is only possible when it ranks higher in search engine SERPs. And ranks depend on the kind of elements your site is developed with. That's why, you must ensure that the site is developed keeping search engines in mind. Having an SEO-friendly sites pays a lot.
10# Smart search through search form
Visitors often come to the site to find one or another information in a hassle-free and simple manner. It'd be a mistake if they did not find information in an easy manner. You can thus have a search form in the site so that information can be retrieved in an easy manner.
11# FAQ
Visitors come to the site with a lot of questions in mind and they seek answers for them all. You can help them by having FAQs (Frequently Asked Questions) posted somewhere in the site to remove all their doubts. This is how you let visitors understand the site in a better way and serve their intended purposes with ease.
In overall, having a top-quality website is important for your business to make its presence count on the internet. Thus, trust only a reputed web development company and take your business to a new height….