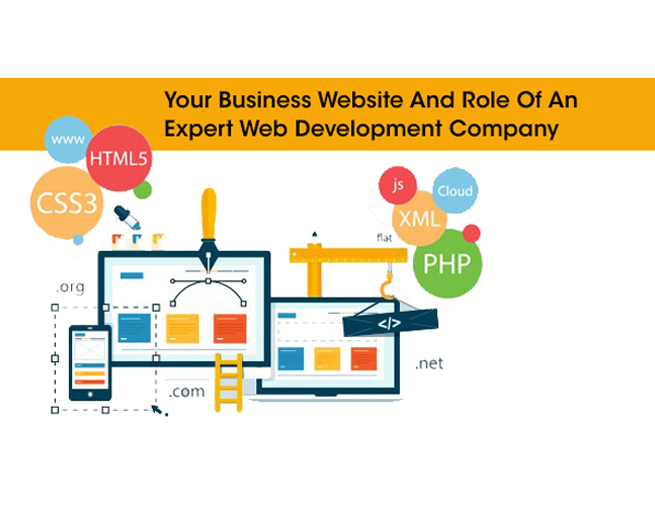 Your Business Website And Role Of An Expert Web Development Company
Websites are important. Without them, your business can't imagine growth and success in today's time. You can't reach the internet without having a website. After all, without reaching the internet, your business will fail to reach to a wider market and a bigger target audience.
Quite clearly, having a website is important as it opens the world of opportunities in front of your business. So, before moving further with web design India, you should have a look at some important stats to understand why websites are important in this day and age for businesses across industry verticals.
✓ You should know that, by 2016, some 45% of the world population will be internet users, or will have access to internet.
✓ This number is even more impressive when we see the data for developed countries, as for the US, this ratio reaches to a massive 86.75%.
✓ In fact, the UK has even bigger number of internet users and here the stats touch a whopping 89.90% of the population.
✓ The same data however hovers in the region of 30% when we see the example of developing countries.
✓ Every day, some 3 billion Google searches are made and almost the same number of blog posts are published worldwide.
✓ By the end of 2017, the internet traffic will be more than what it has been for all years combined
✓ In the next two years, some 70%s of searches and traffic will be generated from mobile and Wi-Fi-enabled devices
All this points to the massive surge of internet usages in the coming years. This is where the role of websites comes into play. If you don't have a website, you will surely not be able to leverage this ever-growing potential of the internet.

Why a website is important for your business?
The stats above are a clear indication of the huge growth the internet will have in the coming years. In fact, even today, being online is helping businesses realize their goals and objectives in a desired manner.
Here are some reasons that show the utility of a website to your business –
✓ A website is your business' face on the internet, sort of an active representative
✓ It grows and enhances your business' presences and takes your products and services to a wider target audience
✓ It's a medium of sharing information with the audience, enriching their lives and making them familiar with your products and services
✓ Websites give businesses an opportunity to build brand and target their audience
✓ A business won't be able to convey its messages to its target audience if it did not have a website
✓ Websites bring the opportunity of engaging and interacting with your customers
✓ Businesses leverage websites to reach to newer markets and geographies to build their base
✓ A website gives your business a presence on the internet and takes your branding efforts worldwide
✓ Businesses can reach anywhere in the world without investing heavily
✓ Websites give you a chance to sell things online without setting up any physical infrastructure
✓ A website helps your business win the trust of users, convert them into customers and build the base
We can clearly see how important role a website has in the making or breaking of the fortune of any company. Not having a website means not being able to benefit from the internet. Which is akin to not existing in the modern times at all.

Role of an expert web development company
You will need a design and development company for your website. The said company will be familiar with all the latest trends and dynamics of the web industry. It will design a website to meet your requirement perfectly.
Here are things to see before hiring a web development company –
✓ You need to trust only an experienced company for your website development
✓ The company in question must have served clients across industries
✓ It must have delivered different types of websites to business across industry verticals
✓ The company must have a team of designers, developers, coders and programmers
✓ It must dedicate equal weightage to design and development aspects as both are important aspect of
✓ Your should trust only a company capable of delivering user-friendly, technically superior and advanced website

Top features in your website
Having a website is not enough to score well on the internet. Rather, there are some essential features that give websites an edge. If these features are available, only then can your website expect to realize its true potential on the internet.
Here are those top features in your website –
#1 Usable and intuitive
If a website is not useful to users, it's worthless. After all, websites are made for users to gain information and meet their purposes with ease. Your website has to deliver a superior experience to users and search engines alike, as both these constituents need to be served for online success. People will visit your website with certain expectations in mind which should be met.
#2 Information
It'd be a mistake if a website did not provide users all the information related to the business. From contact details to contact forms, from office address to branch location – users often want every piece of information on the website. They visit the website to understand the business, its products, services, mission statement et al before forging any meaningful relationship with the business.
#3 Ease of use
Websites won't serve any purpose if they are not easy to use. They should never confuse users and there should be visual clues at every possible step to guide users through the pages. The design should be simple, and a use of three colour-palette right through can make the site easy on the eyes as well. Images should never be stretched beyond their pixel capacity as this leaves a poor impression.
#4 Clear Navigation
The most important thing for a website is to have call to action in place. Which means, the website should be sure what it needs users to do upon the visit. This is where having clear navigation works or helps a great deal. Similarly, pages on your website should have relatable names so that navigation is never a challenge for users. Whether your focus area is to sell something or seek a membership or whatever, it got to be reflected in the site for sure.
#5 Multi-browser and multi-device support
What if your website does not support different browsers in the market? Similarly, what if your website does not deliver multi-device support? This is how the reach and impact of business get limited. A good website is one that is accessibly by any browser in the world. Likewise, top websites are those that deliver a consistent look and appearance regardless of the device type they are used on.
#6 Security
Security becomes a major concern to sites that are engaged in selling some products or services. If these sites don't put in place appropriate security measures in place, they won't be able to win the trust and confidence of users. They will have to secure the site with an SSL certificate so that all the communications between both the parties – buyers and sellers – remain out of danger's way. Only they can you expect buyers to give away their sensitive card details and other information.
#7 Social Media Integration
In today's time, no business can afford to give social sites a miss. Social media has grown to be a vital marketing tool and this is why businesses need to leverage them fully well. From Facebook to Twitter to YouTube to Tumblr – every social site has a unique demographic and capable of adding value to the business. Apart from promoting your business on these platforms, you need to integrate them into the website. Doing this will help your website win the trust of new-age consumers for sure.
#8 FAQ
Apart from sharing information, your site needs to remove doubts and answer questions of users. After all, users may have a lot of doubts and they visit the site to clear them all. You can make a list of questions that are frequently asked by users and give answer for them. This way, you can cater your audience in a way desired by them. This sharing of answers could be related to any and almost every aspect of the business, and you should not hesitate in putting out all answers in a simple manner.
#9 Fresh and updated content
The last thing users want on a website is copied and duplicate content. If the content is not fresh and not updated, it won't be able to keep users hooked beyond a point. That's why, you should make sure to keep updating the content of the site on a regular basis, and not doing the same can down it ranks a great deal.
In overall, you should trust only a top-rated web development company for your web projects. Not doing the same means you are not interested in leveraging the internet in the desired manner, which is surely a bad idea in today's time.