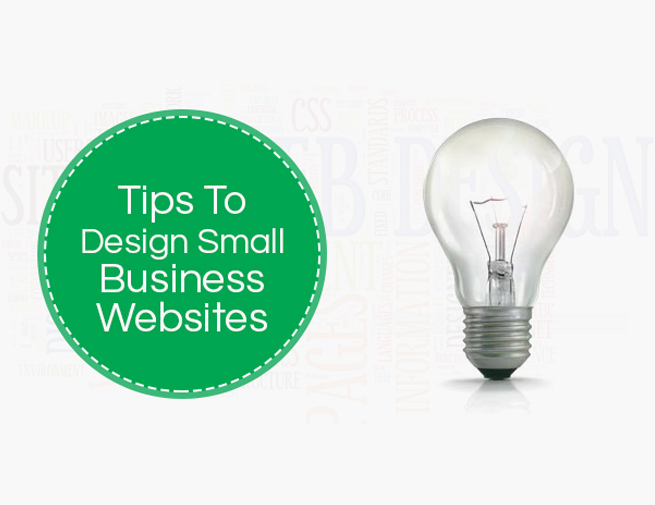 Tips To Design Small Business Websites
When it comes to designing small business websites, the tips and best practices are simple; keep it simple.
✓ Your website visitor may be a regular customer checking the site for any offers or special items on your specialty seafood restaurant website.
✓ Your website visitor may have just discovered your website through a Google search and is looking at your products and will note down your contact number.
✓ Your website visitor is browsing your website using a mobile device powered by Android or iOS.
Website Design Best Practices
1. Make sure your website is elegant and eye-catching — this will pull the first time visitor in. You are competing against millions of other websites and it is both essential as well as difficult to be unique and outstanding.
TIP: Take a look at some of the Webby Awards winners for inspiration. You may get some inspiration from some website element or feature on one of those websites. May be your website may become a Webby Awards contender in the future.
2. Simple Website navigation. Some aspects of websites — some design elements to be precise — have become website design standards. Sure, Google has a button called 'I'm Feeling Lucky' but Google is a pioneer. And actually, the Google home page is an excellent example of simplicity.
Despite Google's age — it is very 'old' by the measuring yardstick of the Web — and despite how big the company has become and how diverse its product range is now, the home page remains remarkably clutter-free and unintimidatingly inviting.
Somebody at Google is doing a mighty good job of resisting the geeky urge of the boffins to add image search, YouTube search, and Google News search buttons directly to the home page. As of now, those options are available only at the 2nd step. Web historians and Google or Web enthusiasts may be interested to learn that Google Image search was born because of JLo's famous green dress.
Simple website navigation is one of the key parts of a great small business website home page. There are other must-haves on a website home page and they are detailed a little later in this article.
3. Responsive Web Design. If you are technically inclined, what RWD refers to is a website design paradigm that takes into account the bewildering variety of screen sizes — the Samsung Galaxy devices, the Galaxy tabs, iPhones, iPhone Pros, iPads, iPad Pros, and so forth.
It is enough for a small business owner to keep in mind that the business website should use RWD. Ask your website design partner company to use a responsive theme.
✓ If you are planning a WordPress website, there are umpteen WordPress responsive themes available for you to choose from.
✓ If you are planning a Magento ecommerce website, there are plenty of responsive Magento themes — both free and premium — to choose from.
✓ If you are planning a Joomla, Shopify, or Drupal website, you can get your pick of responsive themes as well.
Finally, take a look at some great examples of responsive websites. Turn to the Webby Awards winners for website features.
4. Use Structured Data Markup/Schema Markup. Structured data markup or Schema markup are website tags that help search engines identify the type of information they are indexing.
For example, an article will have such as headline, images, publish date, and description. And recipes should be marked up thusly as well.
This sort of markup is beneficial for local business websites as well.
For example, if you are planning your restaurant website, information that would be relevant for website visitors includes:
✓ Restaurant timing
✓ Restaurant contact number
✓ Restaurant ratings by users
Once Google has this information in its index, it can display it right on the search engine result page (SERP).
These 'rich snippets' — as well as the 'Knowledge Graph' — are dependent upon your website containing the necessary information for Google to pick as well as keeping the information in a format Google will be able to understand and index while crawling your website.
See the screenshots of how the rich snippets appear in search results.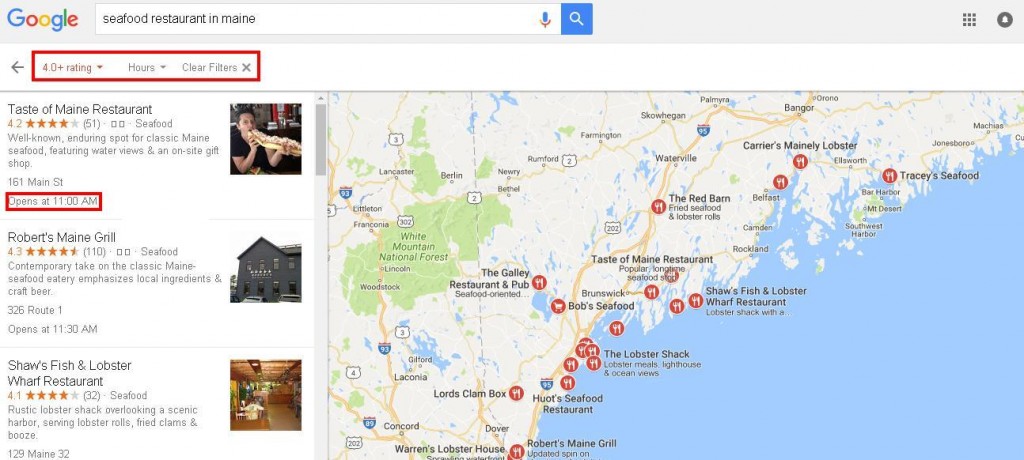 (Google search result for specialist restaurants with rich snippets)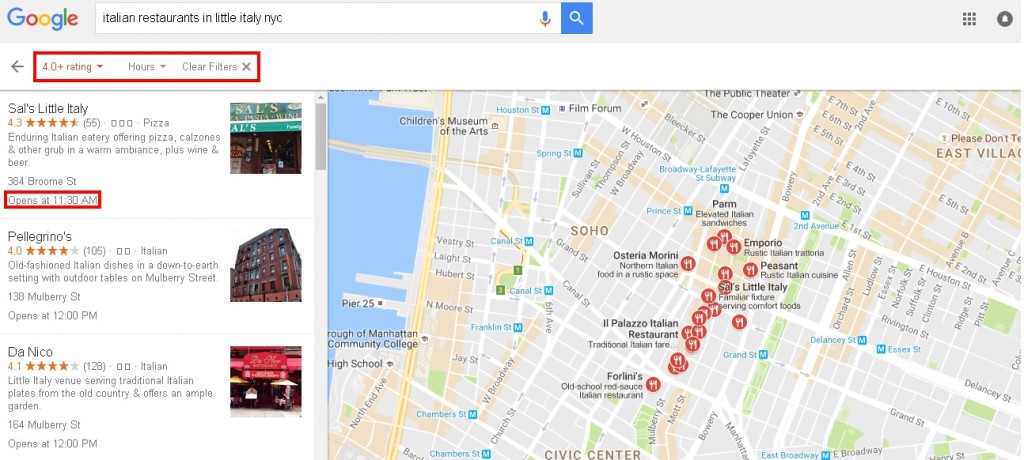 (You can apply filters to Google search results for Rating and Hours)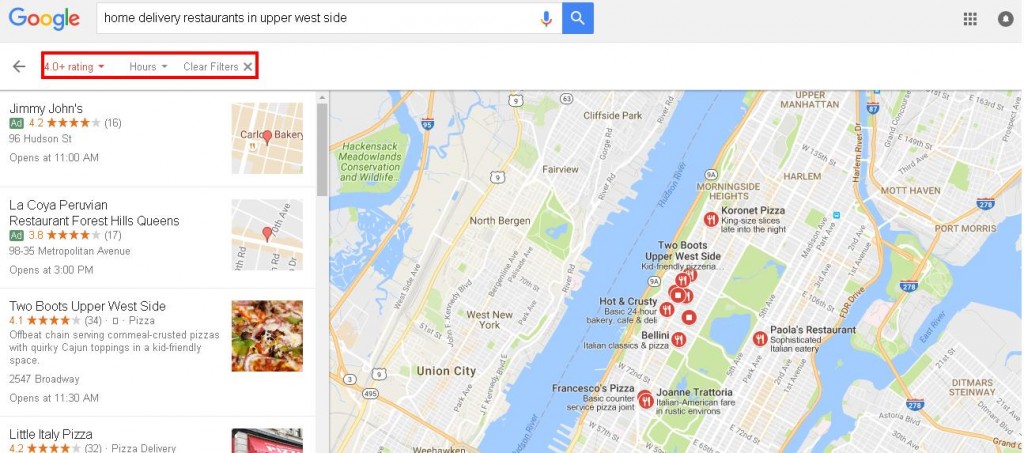 (Google puts a couple of Ads at the top as well)
5. Keywords Matter. SEO Matters. No matter how small or large a business you are, no matter how unknown or well-known your brand is, you should ensure that your website is keyword optimized or search engine optimized.
a) Make sure your web page URLs are search engine optimized.
b) Make sure the web page content is optimized in a 'natural language' way.
c) The title tag of every web page on your website should be optimized as also the heading of every web page.
It is up to your website design partner firm to make sure the SEO elements are baked into the website right from the beginning.
Why Outsourcing Website Design Makes Sense
Now you know the big picture. You have a bird's eye view of what goes into a great small business website or what it takes for a small business website to stand out.
BTW, why was the scarecrow invited to do a TED talk? Because he was out standing in his field! So, if you can make an 'outstanding' website, may be your website can get an invite to do a TED talk as well.
A small business website has gotta be optimized; it needs markup, a responsive theme, simple website navigation, and an elegant and unique look.
So, how will you make sure that your website has all these elements? That will actually be the task of the web design professionals at a website design agency. Your website design partner agency should preferably be located in a top outsourcing destination such as India.
There are lots of good quality website design companies or agencies in India. In fact, you will need to pay attention to the process of choosing your website design partner.
Here's a detailed blog post about how to choose the best website development company to partner with.
Website Home Page Checklist, Standards and Conventions
Certain features, elements, and aspects are so commonplace across most, if not all, websites that they can be considered 'web design standards'; there are other aspects of website design that can be considered 'web design conventions.'
Here is a handy checklist of these standards and conventions as well as the 'must have' aspects of a website home page for your reference.
Website Design Standards
Logos and the Main Menu are web design standards and one you should adhere to as well unless you have exceptionally good reasons not to adhere to it.
1. Logos. You should get a logo for your business designed by a professional graphic artist. Perhaps, your business already has a logo and you need a jpg version of it to put on the website.
Either way, it should be a professional product and it will go on the top left corner of every web page of your website. Clicking the logo will take the user to the home page.
2. Website Main Menu. This is the other web design standard. The main menu should appear at the top of every web page — even as you scroll down on a web page. The user should not have to scroll back to the top of a web page to see the menu.
The usual options on the main menu will be:
A. Home
B. Products and/or Services (this depends on the nature of your business). A few sample menus. Apple's main menu references its growing list of product categories: the Mac, iPhone, iPad, Apple Watch, Apple TV, and so on.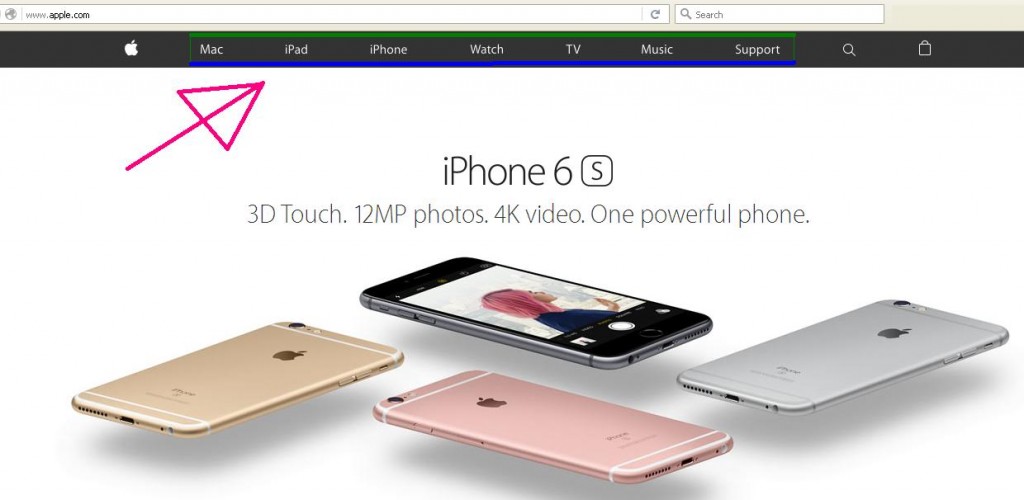 (Apple's Home Page)
GoPro's Home Page is simple: shop its products and watch some videos and images.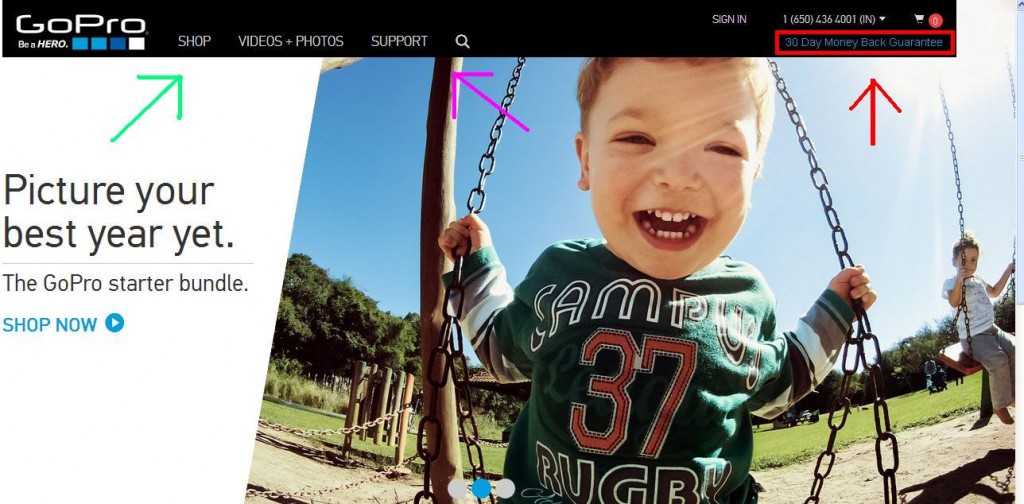 (GoPro Home Page)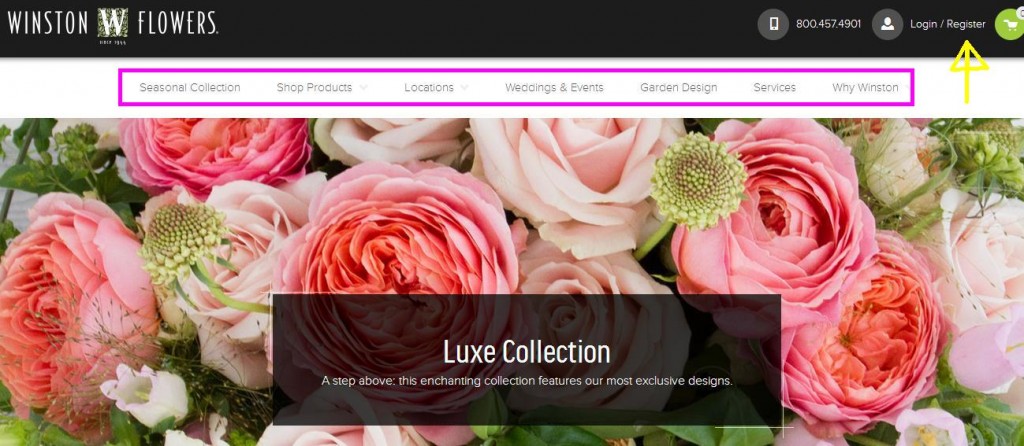 (Florist Website Home Page)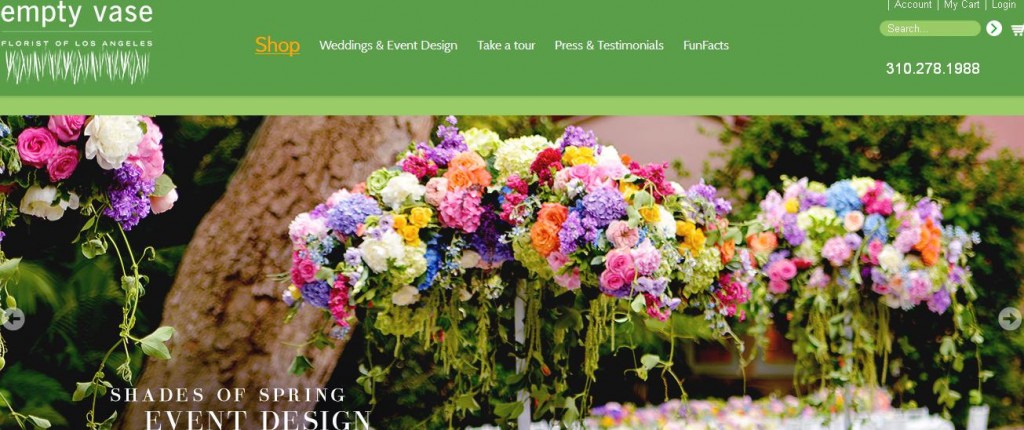 (One more florist website)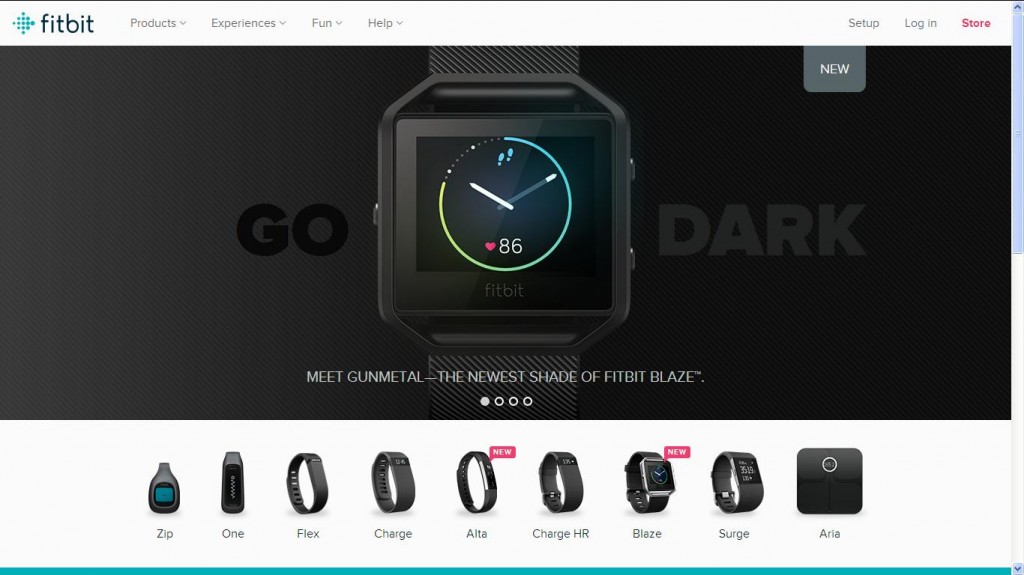 (Fitbit Home page)
C. Portfolio/Testimonials/Whitepapers (Again, depends if you have many of these to share and if they will be valuable for website visitors).
D. Blog. Lots of websites have blogs these days — from established tech companies like Microsoft to newcomers like Fitbit. Blogs are a way to build a community of your customers.
Blogs can be a useful resource for your users where you provide useful information, tips and answers to frequently asked and not so frequently asked questions.
Blogs that are frequently updated provide valuable positive ranking signals to Google and other search engines.
All other things remaining the same, a site with a popular blog should rank higher in organic search results and rankings than a site that lacks a blog or has a dormant blog.
Good quality content on the site matters these days. Blogs are a good way to infuse your site with not only content but the right content with keywords that are relevant for your business.
You should target not only the main keywords but their related terms and/or synonyms — what are known as LSI keywords.
E.The 'About Us' link or option is often there on the main menu if you are in the service business such as in healthcare, financial advice, tax planning, IT/web design, digital advertising, digital marketing companies, and so on. Having the names of the main people who own/run the company up on the website acts as a kind of trust badge.
Website Design Conventions
1. Contact Details. Business websites will give different levels of prominence to the contact details. This is a convention for small business websites. For a small business such as a restaurant or a florist or online bakery shop and so on, the contact no. is crucial. It is usually displayed prominently at the top right-hand corner of the website on every page.
Many returning visitors will visit your website to collect the contact no. of your business and then perhaps book a table at your restaurant or order something if you provide home delivery services. Also, the contact no. is displayed right on the search results page in Google. Your website should prominently display any FREE offers such as 'FREE home delivery for orders above $200.'
2. Calls to Action (CTA). CTAs can be a wide variety of things where a user is asked take an action to gain a benefit. This is another convention on many or most small business websites to increase user engagement. You could have a 'Limited Period Offer' pertaining to a product or service. You could be offering 15% discounts on your online wine delivery website if users signed up for your newsletter. Or, you could be hosting a wine tasting and your CTA could be asking website visitors to book their place by paying the fee.
3. Search functionality. You should implement a site-wide search functionality and have the search button displayed globally in the header on every page. This is more important when you have hundreds of thousands of items on your website.
4. Image slideshows work quite well as a way to showcase your offerings. For example, the florist website home page screenshots above show just one image out of a slideshow. High quality images of food items you serve, dresses you sell, wines you sell, buildings or homes your architectural firm has designed, and so on can be featured high on your website's home page in a clickable slideshow format.
These rotating images will each have a short message on top of them.
This slideshow will usually be displayed 'above the fold' on the home page just below the main menu.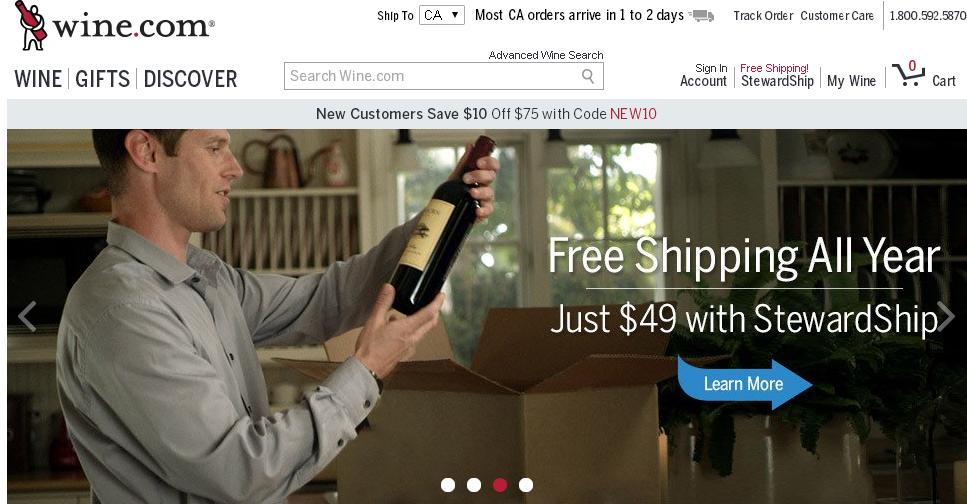 (Image slideshow with great CTA)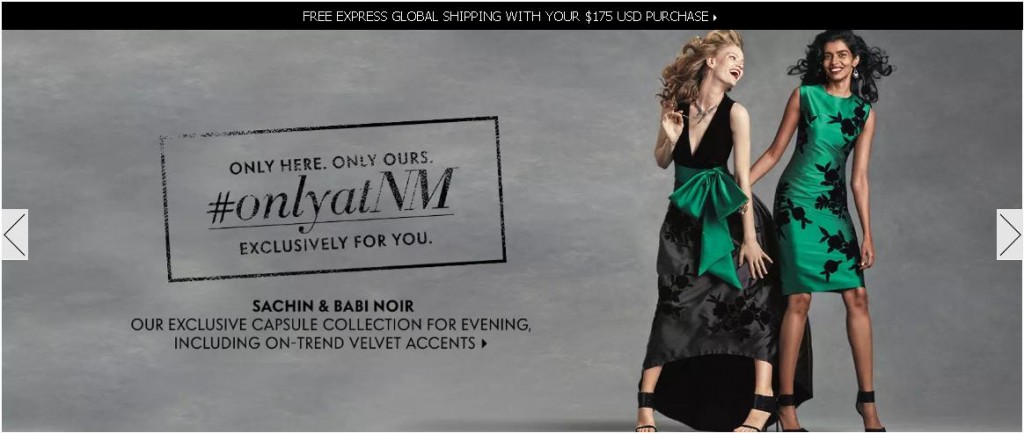 (Neiman Marcus seems to have a slideshow with only two images)
5. As you scroll down on the home page, you can present your website visitor with a portfolio of your products. These will comprise of projects you have successfully completed for various clients. This can be in a clickable slideshow format as well. If you have lots of projects in your portfolio, you can have a link saying 'visit our Portfolio page for a complete list.'
6. Testimonials of satisfied customers work well to attract new customers. Your website home page can display a few customer testimonials showing their images and quoting what they have to say about your company and/or your company's products or services.
7. If your architectural firm has won awards or your restaurant has got Michelin stars or been featured in The New York Times or other media outlets, you can point to them on the website home page. Awards and other recognitions increase your brand's value.
8. If you have a limited-period offer at the moment, you should highlight it on the home page by featuring it prominently through a form in the header area just below the main menu, a display ad on your own web page, a pop-up window, a window in a sidebar, or in the footer.
9. The Footer area usually has these elements:
a. Social media icons.
b. Contact details.
c. Maps, directions, etc.
d. Email newsletter signup,
e. Website security seals such as 'Verisign.'
f. Any calls to action.
Conclusion
So, whether you are planning a small website using WordPress CMS or a more substantial specialized ecommerce set-up using Magento, you could go for professional website design and development services at website design firms in India.
WordPress development has many aspects to it and companies like Mind Digital will take care of installing the right WordPress themes that are contemporary and responsive. Similarly, you could opt for offshore expertise in Magento ecommerce development. You will get professional expertise in choosing Magento themes as well as in ensuring website SEO is done right and much more.
Responsive web designis an absolutely essential aspect of website design these days and offshore web development is a great way to implement responsive technologies on your website.
Finally, your online business will probably not prosper without going for digital marketing. In a world of fierce competition, your startup website can only get eyeballs if you make the necessary efforts in search engine optimization (SEO),Pay-Per-Clicks (PPC) adverting or paid search, social media marketing, display advertising, and content marketing.