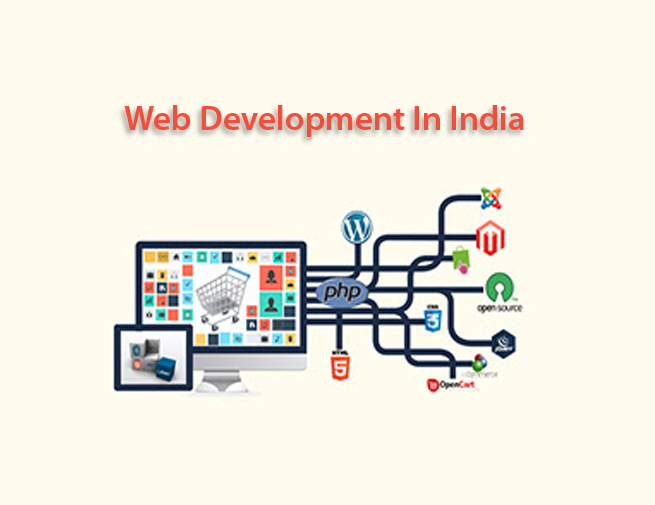 The Global Edge of Web Development In India
By admin February 20, 2016
The domain of outsourcing/offshoring is witnessing a race of supremacy where many contenders are vying for a major chunk of the pie with an eye for the top slot. As India continues to maintain a substantial lead over other rivals, it however seems an appropriate time to evaluate its stranglehold that has in recent times faced some challenges on more than a few fronts. It's understandable that the one-sided race in outsourcing is now wide open due to emergence of other offshore destinations such as the Philippines, Poland, Mexico and many more. As challengers are no pushovers, it becomes interesting to see those factors that give India a distinct outsourcing advantage over them all. A deep analysis is required of a market that has been a preferred outsourcing partner for some 80% European and US firms. Similarly, we need to look at causes that prompt many Fortune 500 companies to outsource their web development in India. It has to be seen whether this nation of more than 1 billion people can maintain its amazing annual growth rate. A wide range of factors make India a sought-after destination by companies in the west for offshoring/outsourcing:
Industry-friendly IT policies
Ever since the dawn of liberalization in way back 1991, successive Indian leaders have maintained a pro-IT and pro-outsourcing stance to leverage the capabilities that the country possesses. Without delay, Information Technology (IT) was made a priority industry and the Information Technology Act was brought into being. Attractive policies were rolled out, including the creation of Special Economy Zones (tax-free centres to set up offices web development in India along with other activities). With a timely boost to communications systems, major players from the IT & software industry started to come here which in tune gave a complete facelift to this industry. In essence, it's the continued efforts from the government that has turned the tide in favour of a country where, let alone professional education, even literacy was a big concern not long ago. The scenario is completely changed today, best visible in the fact that some of world's foremost IT & software firms have already set offices here such as Google, IBM, Accenture, HP, Cisco, Oracle and many more.
Modern Set-up of Infrastructure & Technology
Industries often need patronage of the state to flourish and sustain its true potential. In that light, the role of the Indian government holds prominence for their unrelenting long-term vision and efforts in regard to outsourcing and the web development in India opportunity that exists. Being a developing nation, there was always a scope to perk up infrastructure and create a set-up to woo investment from major IT & software giants. A massive investment was done and as a result, the India of today is a progressive nation with all its towns having a well-connected cellular, telecom and ISP networks. A well laid-out system of satellite connectivity, fibre optic networks and submarine cables is in place to give a thrust to outsourcing tasks. Vast improvements in communication channels have coincided well with growth in software technology to ensure incentives to join the fray. Overall, if outsourcing has flourished and sustained in India, whether it be working with a web design company in India or a development partner, then credit is due to its investments in infrastructure and technology.
Surge of the Talent Pool
To start with, India is the world's second most populous country just behind China. Secondly, its population rate of some 2% annually was once deemed a big issue in delivering social services, but not now, at least it seems. With a population of over 1 billion people, India capitalizes to the core benefits of demographic dividends. Needless to say, its technical talent tool is one of the biggest in the world and deemed one of the major reasons of its being cost-effective for offshore development tasks. Simply put, you can't compete with a country that adds to industry over 3 million graduates each year. You would be surprised to know that India has virtually a similar number of employable heads as the total population of Europe or European Members! This benefit is something not going to cease in days to come, at least in near decades thus confirming of a continued ascendancy. The stats are truly staggering and speak volume about the upward surge of skilled and professional heads here.
More English-speaking Souls than the US and UK Put Together
It may sound bizarre at first, but it's true! Yes, India has more people speaking English than the combined strength of the United States of America and the United Kingdom. With an employable capacity nearing a whopping 500 million, it's not hard to guess the sheer number that is taking a liking to non-native language. Interestingly, this is one front where China lags behind miles for many reasons including its education policies facing the influence of Communist regime for as long as it existed. The case of India is entirely different as English is considered a privilege here and its knowledge is deemed a passport to join the world of elites. Perhaps, the hidden desire to learn a language that promises prospects makes Indians inclined towards it thus bringing an entirely unplanned yet utterly beneficial edge to industry. This is another major reason why so many people choose to get web development India work done as well as work with a web design company in India.
Numerous Pricing Choices & Advantages
It costs an average of 40% to 70% cheaper to hire an web development professional in India when compared to the US or Europe in most cases. Again, it depends on the level of expertise and experience this person posesses naturally. This means the costs of your entire web development project outsourced to India would automatically come down as hiring manpower is much cheaper here. In a way, it's not hard to guess what makes web development India a favourite among those seeking these outsourcing benefits. Price, price and only price! With a slashed budget and increased profits, firms never cease to line up to leverage the potential available here. Seen from a different perspective, developing countries anywhere on the planet are going to be less costly than developed ones and the same narrative has its say in offshore projects. The world will always look for destinations where doing businesses brings rewards on major fronts like costs and cheap labour. This is precisely what keeps the ball rolling for the development and offshore business model.
Costs Invite & Quality Sustains
It's true that costs have a dominant role to play in making India a leader in the outsourcing domain but there's more to this saga. When we dig deeper, we find more factors surfacing to the fore and giving credence to what brings the true picture to the world. It should be known that service receivers swear by consistent high quality services delivered from India. Similarly, among the competitors to the top-slot of outsourcing, India ranks miles ahead than the rest in most but not all cases. With that, it also proves that costs may have worked as a spur but its technical excellence of service providers here, coupled with their promptness with service delivery that has worked big time in favour of India.
Many Top-tier Centres of Outsourcing
A recent study in 2015 pegs the total worth of Indian outsourcing business at about USD 120 billion, which is massive by any standard. In addition, the country has at least six top-tier destinations where majority of work is done and delivered. In fact, every region here has a big offshore destination, including Delhi NCR – New Delhi, Noida and Gurgaon (North), Mumbai and Pune (West) and Chennai, Bangalore and Hyderabad (South). Furthermore, these places consistently feature in the top-10, 20, or 30 rankings of outsourcing destinations in the world for a long-time, which speaks volume about the pink health of the sector. Similarly, it gives amazing 'options' and advantages to those seeking to cash-in on web development in India. With such a homogenous presence, a sense of parity is retained here on virtually all factors, including the costs.
Conducive Zone Differences
A 12-hour time difference exists between India and the USA, and it forms a crux of benefits accrued from the outsourcing domain. This 'unique' advantage in time difference is leveraged to the core from both parties to align objectives and delivery schedules. For the US, it's virtually a win-win situation as it stands to take '48 hours out of a day' while India is enriched by revenues. Similarly, this advantage extends to other markets leading to greater efficiency and an impeccable delivery schedules of projects. This same time-advantage can be leveraged in many other continents such as South America, Europe, Australia and many more. It's this very factor that helps Indian firms offer one of the quickest time-to-market and retains it leads for a go-to destination for web design in India as well as web development in India solutions.
Conclusion
It's quite obvious to see through the inherent advantages for the concept of outsourcing/offshoring to gain profits, reduce costs and provide quicker turn-arounds. However, the selection of a perfect partner is essential to reap those rewards in offshoring as any mistakes on this front is akin to squandering a golden opportunity. Given its traditional hold in the market, you will surely benefit from seeking an association with a web design company in India or a web development company in India that has the experience and expertise to deliver what you are looking for. Not only will you economize projects but also prioritize other tasks to realize your goals as a business. If you are looking for a trusted, experienced and high quality development or digital marketing partner in India that can deliver exactly what you are looking for, please feel free to get in touch with the team at Mind Digital.